Published 25 April 2018
Buckie Got It, St. Kitts and Nevis News Source
By: Media Source
High ranking police officer expresses alarm at the number of illegal firearm seizures in St. Kitts-Nevis
Basseterre, St. Kitts, April 24, 2018 – A member of the high command of the Royal St. Christopher and Nevis Police Force has expressed alarm at the number of illegal firearms in St. Kitts and Nevis.
According to a police press release, Assistant Commissioner of Police responsible for Operations, Terrence James, stated that the number of firearms being found continues to be alarming.
"We are deeply concerned by this and other firearm and ammunition finds. The public is well aware of the problems we have with drugs and firearms in the federation. The results are clear when we get information and are able to act on it. It takes a community to protect a community. The police cannot do it alone," ACP James said.
James made the comment following the seizure of a Hi-Point 380ACP with live rounds in the magazine found during a police raid on a home in Sandy Point.
Police said 11 persons were taken into Police custody along with the weapon.
James pointed out that the men and women of the Royal St. Christopher and Nevis Police Force continue to put their lives on the line and urged members of the public to report suspicious activity or information they might have about criminal activity to their nearest police station.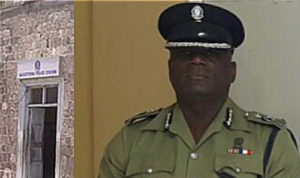 Photo: ACP Terrance James
********************************************************************************************************************************************
DISCLAIMER
This article was posted in its entirety as received by BuckieGotIt.com. This media house does not  correct any spelling or grammatical error within press releases and commentaries. The views expressed therein are not necessarily those of BuckieGotIt.com, its sponsors or advertisers