Published 02 October 2018
Buckie Got It, St. Kitts and Nevis News Source
São Tomé and Principe joins the growing list of countries with which St. Kitts and Nevis has established diplomatic relations
October 02, 2018 (Ministry of Foreign Affairs): Minister of Foreign Affairs of St. Kitts and Nevis, Honourable Mark Brantley, today, 28th September, 2018, in the margins of the 73rd  UN General Assembly, signed a joint communique with Minister of Foreign Affairs of Sao Tome and Principe, H.E. Urbino Botelho, to establish formal diplomatic relations between the two countries.
The ministers also agreed to sign a mutual visa waiver agreement between St. Kitts and Nevis and Sao Tome and Principe to boost bilateral relations through people to people contact and encourage greater tourism between both countries. The ministers noted the similarities between the two small twin island states and the common challenges faced.
Both ministers extended formal invitations to each other's country.
Both governments anticipate building technical cooperation in the areas of combating climate change, disaster risk reduction, tourism and travel. Foreign Minister Brantley expressed his delight at this historic development as St Kitts and Nevis continues to expand its diplomatic footprint particularly on the African continent. Minister Brantley reminded his colleague from São Tomé and Principe that the people of the Caribbean are a part of the African diaspora and the urgent need for greater interaction and cooperation between Africa and the Caribbean as they give real meaning to South South cooperation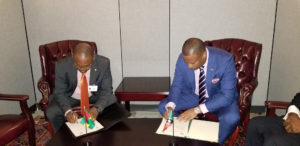 (L-R): Minister of Foreign Affairs of Sao Tome and Principe, H.E. Urbino Botelho; Minister of Foreign Affairs of St. Kitts and Nevis, Honourable Mark Brantley  

 (L-R): Minister of Foreign Affairs of Sao Tome and Principe, H.E. Urbino Botelho; Minister of Foreign Affairs of St. Kitts and Nevis, Honourable Mark Brantley