Published 17 January 2018
Buckie Got It, St. Kitts and Nevis News Source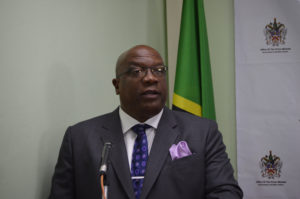 PRIME MINISTER DR. THE HONORABLE TIMOTHY HARRIS
PREPARATORY WORK FOR THE CONSTRUCTION OF THE NEW BHS IN 2019 IS PROGRESSING
Basseterre, St. Kitts, January 17, 2019 (SKNIS): 
The preparatory work for the construction of the new Basseterre High School (BHS) this year is progressing, says Prime Minister Dr. the Honourable Timothy Harris at this monthly press conference on January 16, 2019.
"The drawings are being reviewed by a Technical Committee chaired by Dr. Halla Sahely prior to submission to the Development Control and Planning Board," said the prime minister.
The ultramodern high school will be located on about 14 acres of land at Pond's Extension in East Basseterre. It will provide 32 classrooms, a music centre with two dedicated music rooms, at least four science labs and six computer labs, a dedicated lecture room, five dedicated vocational workshops, teachers' lounge, counselling and health service facilities, an auditorium with seating capacity for a minimum of 1,200 persons and upgraded sporting facilities to meet international standards. All floors and rooms of the new BHS will be accessible for wheelchair egress via code compliant ramps, while the amenities will cater to those who are differently abled.
The building of the new BHS is one of the government's manifesto promises that is coming into fruition.
At a previous press conference, Prime Minister Harris said that that commitment was hugely supported by the people of St. Kitts and Nevis and the people of East Basseterre, as the school will be built there.
"We are then just simply pursuing our mandate in relation to the Basseterre High School," he said. "This was not some fishing expedition we embarked upon. We canvassed the length and breadth of this country, put forward our case that having regard to all the international and regional reports, which warned with regard to the health and safety at the Basseterre High School, that a new venue was the best place."
Prime Minister Harris said that the precautionary principle was applied. The government decided to err on the side of caution as it did not know exactly what was wrong with the old school. He said that it decided not to let the students and teachers suffer on the site.
"This is simply all that we are doing," he said. "So, the lot of noise is unhelpful about it and it will not distract us from proceeding with our manifesto mandate. It is something that has been voted upon. We didn't say to the people that we are going to put them back there. We said 'Not there'!"