Published 9 April 2019
Buckie Got It, St. Kitts and Nevis News Source
Development Bank rallies round Village Superstars as it wins first round 2019 CCCS matches in Curacao 
Basseterre, St. Kitts, April 8, 2019 (DBSKN) — Village Superstars Football Club is doing the country proud at the on-going 2019 Confederation of North, Central America and Caribbean Association Football (CONCACAF) Caribbean Club Shield in Curacao after winning their two first-round matches by beating clubs from Antigua and St. Lucia.
"News coming out of Willemstad in Curacao is that our brave boys on Friday April 5 beat Greenbay Hoppers FC of Antigua 2-1," reported Ms Vernitha Maynard, Marketing Officer at the Development Bank of St. Kitts and Nevis. "It was on the same Friday morning that I wished the club's President Mr Earnest 'Ken' Queeley all the very best as I presented to him the bank's sponsorship to assist with the players' upkeep in Curacao."
According to Ms Maynard, Village Superstars who were playing in Group 'C' on Sunday April 7 faced Platinum of St. Lucia and also beat them 2-1 with goals coming from Kimaree Rogers and Tahir Hanley, while the solitary goal for Platinum FC came from Gregson Rachid Kasdan President.
"We at the Development Bank are elated at the showing of our boy in Curacao and we hope that they will continue with that winning form for the rest of the tournament," said Ms Maynard. "Quarter finals will be played as from Thursday April 11, and we have high expectations that they will do well again. The entire Federation of St. Kitts and Nevis is behind them."
Other teams taking part in the 2019 CONCACAF Caribbean Club Shield are Dakota FC of Aruba, Weymouth Wales of Barbados, SV Real Rincon of Bonaire, Scholars International Sports Club of Cayman Islands, Santiago de Cuba of Cuba, Jong Holland of Curacao, Fruta Conquerors Football of Guyana, Club Sportif Moulien of Guadeloupe, Club Franciscain of Martinique, and SV Robinhood of Suriname.
"We approached the Development Bank of St. Kitts and Nevis for assistance because it is a very expensive tournament," said Mr Earnest 'Ken' Queeley, president of the Village Superstars after he received the bank's sponsorship from Ms Maynard at the bank's head office on the corner of Church and Central Streets in Basseterre on Friday April 5.
"This is the first time we have received sponsorship from the Development Bank of St. Kitts and Nevis, and we welcome them on board. We want to thank them and hope that they continue to do it going forward because football here is not cheap. Football is however the most popular sporting event in the Federation of St. Kitts and Nevis."
A 30-strong contingent made up of 25 players, three coaches, one doctor and one physiotherapist is representing the Federation in Curacao. According to Mr Queeley, the club was formed in 1971, and it remains one of the top football clubs in the country. With the support of the Development Bank of St. Kitts and Nevis and other corporate citizens, sky is the limit for the Village Superstars, noted the club President.
ENDS
Pix caption: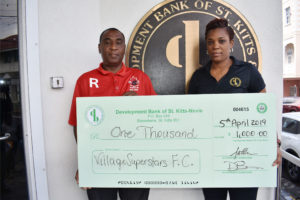 Mr Earnest 'Ken' Queeley, President of Village Superstars, receives Development Bank's sponsorship cheque from Ms Vernitha Maynard, the institution's Marketing Officer.