Published 7 May 2019
Buckie Got It, St. Kitts and Nevis News Source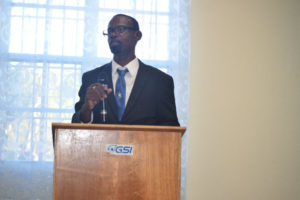 Dean of the Division of Technical Vocational Education & Management Studies (TVEMS), Andrew Abraham
EIGHTY STUDENTS SHINE IN THEIR ACADEMIC PERFORMANCE AT CFBC'S TVEMS DIVISION 
Basseterre, St. Kitts, May 07, 2019 (SKNIS): Eighty students attending the Division of Technical Vocational Education and Management Studies (TVEMS) at the Clarence Fitzroy Bryant College (CFBC) were recently recognized for their outstanding academic achievements during the Dean's List Award Ceremony held on April 23, 2019 for the academic year August 2018 to June 2019.
Dean of the Division of Technical Vocational Education and Management Studies, Andrew Abraham, stated that the award is for students who are performing above average, that is, all students who would have attained a G.P.A of 3.0 and above.
"Those students are recognized on a semester basis and the reason for that is to give them some form of motivation so that they can continue performing consistently," he said. "Also, it is something for us to ensure that persons complete the programme successfully, but not just successfully but at their best."
Along with certificates, students were given pins to showcase their achievements.
This is not the first time CFBC is having the award, but this is the first time the college has seen so many students being awarded, said Mr. Abraham.
"[The awards] helps us to gauge what our graduation would look like at the end of the year," said the dean. "For us it is important for us to look at numbers. It seems as if they are really into their programme and they are putting that extra effort in not only to succeed at the programme, but at the highest level."
Mr. Abraham said that the awards, which started in 2014, is evident that the technical division of the college should not be seen as an area for persons who are academically challenged.
He added that the Dean's List Awards has also given students the opportunity to present credentials when seeking employment.
"It gives our students more credence in the sense that when they go out and employers ask them for achievements they have something to present," he said. "So that helps them build their credentials and resume. "What we have found over the last couple of years is that many students who were going out on job search, even those who have applied to college, they use their certificate of award to show their achievements. For some students it has been beneficial where they can actually provide upon request that award. They even put it on their resume."
Mr. Abraham said that the award has motivated students to excel.
"It sparks something in them. Persons have come up to me saying next time they will be on the list. They are now motivated to not only attend classes, but to do well in all their courses," said the Dean of TVEMS.