Published 19 March 2023
Basseterre
Buckie Got It, St. Kitts and Nevis News Source
PRIME MINISTER DR. DREW CONFIDENT THAT OUTCOMES OF THE REGIONAL SYMPOSIUM ON CRIME AND VIOLENCE IN THE CARIBBEAN WILL BEAR FRUIT
BASSETERRE, St. Kitts, April 19, 2023 (SKNIS) – The Prime Minister of St. Kitts and Nevis, the Honourable Dr. Terrance Drew has hailed the recently concluded CARICOM Regional Symposium on "Crime and Violence as a Public Health Issue" a success, stating that he is confident the resolutions from that symposium will lead to a reduction in crime across the Caribbean region.
The two-day symposium which was held in Trinidad and Tobago ended with a Declaration by Heads of Government on Crime and Violence as a Public Health Issue which includes, inter alia, the decision to undertake a comprehensive overhaul of the criminal justice system to address criminal terrorists with a focus on proactive management of prosecutions, sentencing and the diversion of young people at risk; the strengthening of regional forensic capabilities and collaboration among national forensic agencies with a view to improving the quality of evidence and speed the conduct of trials; and the immediate and effective implementation of the CARICOM Arrest Warrant Treaty.
 
"As a region, I strongly believe we are taking the right approach and will yield tremendous results now and in the future. St. Kitts and Nevis is ready and willing to move forward from research evidence and experience to robust and sustained action as we implement these evidence-based solutions along with our Caribbean partners and international partners as well," said Prime Minister Dr. Drew during a roundtable interview with members of the media today, Wednesday, April 19, 2023.
 
The honourable Prime Minister reiterated his position taken during the symposium that an evidence-based approach is needed to tackle the crime problem the region faces.
 
He said, "In my presentation, I made mention of Marcus Garvey, an outstanding political activist, who once said, 'man is a product of his mind'.  In other words, in reference to violence, it can be said that violence is a learned behavior. However, as a medical doctor, I tend to seek for evidence analyzing data. I tend to look for research and I believe that what is learned can be unlearned if there is a definition of the issue and early application of best practice interventions, and as I've said before this must be based on science and evidence. Therefore, I feel hopeful that the crime and violence situation within the Caribbean can be addressed effectively with proper analysis of the evidence and data that have been collated over the years."   
 
Prime Minister Dr. Drew also commended Psychiatrist and former Ambassador of St. Kitts and Nevis to the United States and the Organization of American States (OAS), H.E. Dr. Izben Williams who delivered the featured remarks at the symposium.
 
Dr. Drew said, "I want to applaud him for doing an excellent job, and his research over the years of course really was in dealing with crime and violence from a public health standpoint, and I think it is now being recognized that he has, I would say, some of the answers to deal with this issue."
 
The Declaration by Heads of Government on Crime and Violence as a Public Health Issue also includes an agreement to ban assault weapons in the region, except for security forces and sporting competitions; an agreement to stand with Mexico on its legal action against US gun manufacturers and retailers; empowering and engaging young people as positive content developers to offset the negative impact of social media and engage with the creative industries to re-engineer culturally acceptable norms; and to promote public awareness and education campaigns in communities that challenge harmful beliefs, attitudes and behaviours that contribute to crime and violence.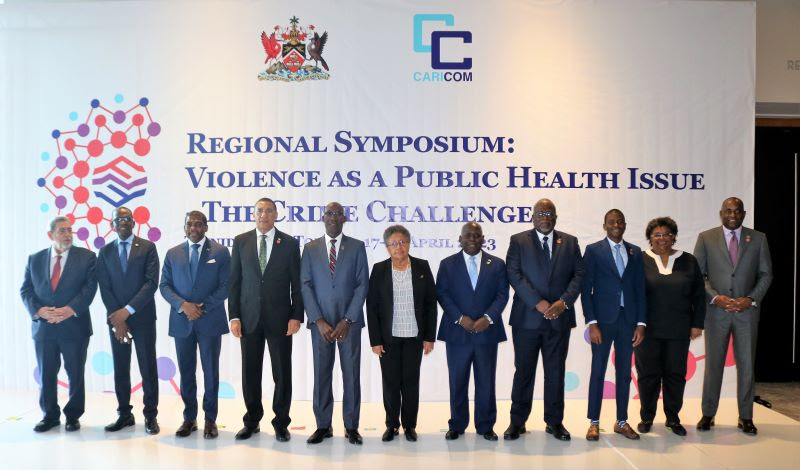 L-R: PRIME MINISTER DR. THE HON. RALPH GONSALVES; PRIME MINISTER PHILIP J. PIERRE; PRIME MINISTER HON. DR. TERRANCE DREW; PRIME MINISTER MOST HON. ANDREW HOLNESS; PRIME MINISTER DR. THE HON. KEITH ROWLEY; CARICOM SECRETARY-GENERAL DR. CARLA N.BARNETT; PRIME MINISTER THE HON. PHILIP DAVIS; HON. PRIME MINISTER BRIGADIER MARK PHILLIPS; PRIME MINISTER HON. DICKON MITCHELL; PRIME MINISTER HON. MIA AMOR MOTTLEY; PRIME MINISTER HON. ROOSEVELT SKERRIT