Published 4 May 2023
Bassetrre
Buckie Got It News Source
ACTING PM DR. HANLEY WELCOMES THE INTERDENOMINATIONAL DAY OF PRAYER ON NEVIS
Basseterre, St. Kitts, May 04, 2023 (SKNIS): Thursday's (May 04) Interdenominational Day of Prayer in Nevis was welcomed by the Acting Prime Minister and Federal Minister responsible for Ecclesiastical and Faith-Based Affairs, the Honourable Dr. Geoffrey Hanley.
In a recorded address, Acting PM Hanley said that the Ministry was pleased to partner with Evangelism Encounter Ministries, which coordinated this year's annual event in Nevis under the leadership of Evangelist Peter Paul.
The theme for the 24th annual Interdenominational Day of Prayer is "Pray Fervently in Righteousness and Avail Much." The subtheme is "Praise in Prayer."
Elreter Simpson-Browne, Permanent Secretary in the Federal Ministry of Ecclesiastical and Faith-Based Affairs, travelled to Charlestown to participate in the spiritual experience. A number of pastors from St. Kitts also journeyed across to the sister isle to share in the event.
The scheduled activities included Morning Inspiration and Prayer, a Power Prayer and Praise Service, and a Prayer Caravan through Charlestown and surrounding areas. The day climaxed with a Power Praise and Prayer Rally at 6:30 p.m. at the New Testament Church of God in Bath Village.
The event runs from 6 a.m. to 8 p.m. It is live-streamed on YouTube and Facebook @centralpraiseskb and the Royal Central Praise Radio and Television. VON Radio also carried segments.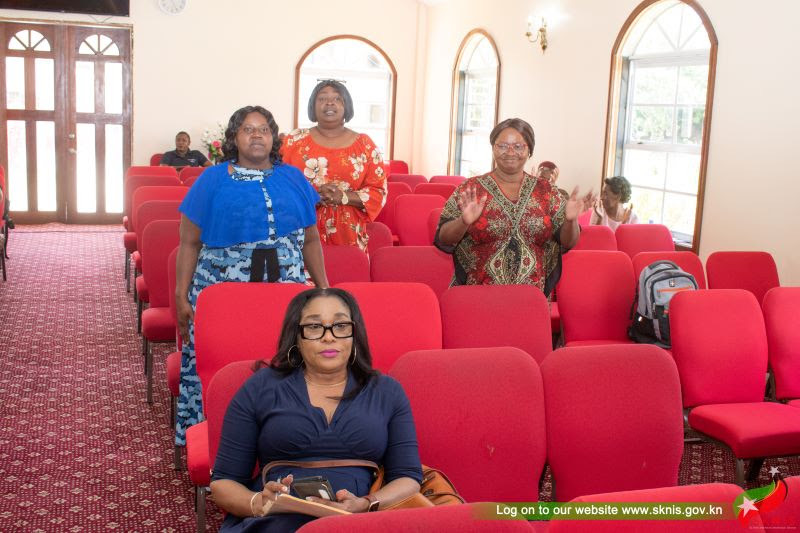 SEATED: ELRETER SIMPSON-BROWNE