Published 14 June 2023
Basseterre
Buckie Got It Media Source
OECS COMMISSION VISITS SCHOOLS IN ST. KITTS AND NEVIS AS PART OF ITS 42nd ANNIVERSARY CALENDAR OF ACTIVITIES
Basseterre, St. Kitts, June 14, 2023 (SKNIS): The Organization of Eastern Caribbean States (OECS) Commission is leading a delegation to visit primary schools within the Federation of St. Kitts and Nevis to share with students general information about the OECS, its work, vision, progress, sustainability, and integration movement. The OECS Commission is celebrating its 42nd anniversary under the theme "Vision. Integration. Sustainability. Progress".

Students of the St. Paul's Primary School with OECS Officials
The visits run from June 13-16. On Tuesday the 13th, the Bronte Welsh Primary School, the Sandy Point Primary School and the St. Paul's Primary School were visited. Today, Wednesday, June 14, the delegation is visiting the VOJN Primary School, St. Thomas Primary School and Elizabeth Jeffers Primary School in Nevis. On Thursday, June 15, they will visit the Saddlers Primary School, Joshua Obadiah Williams Primary School and Cayon Primary School. On their last day of visits, the delegation will visit the Tucker Clarke Primary School, the Irishtown Primary School and the Deane-Glasford Primary School.

St. Kitts and Nevis' OECS High Commissioner, H.E. Larry Vaughn speaks to students of the Bronte Welsh Primary School

Director General of the OECS Commission, Dr. Didacus Jules in an interview at the St. Paul's Primary School said, "We are making schools [visits] all around the islands of St. Kitts and Nevis to meet with students, particularly the lower grades to get a sense of their understanding of the OECS and to explain what the OECS is all about."

"This is the beginning of the outreach by the OECS commission to reach out to students in the educational systems across the entire OECS because they are the future of the region and it is very important that they have a deep understanding of what the integration movement is about," he said.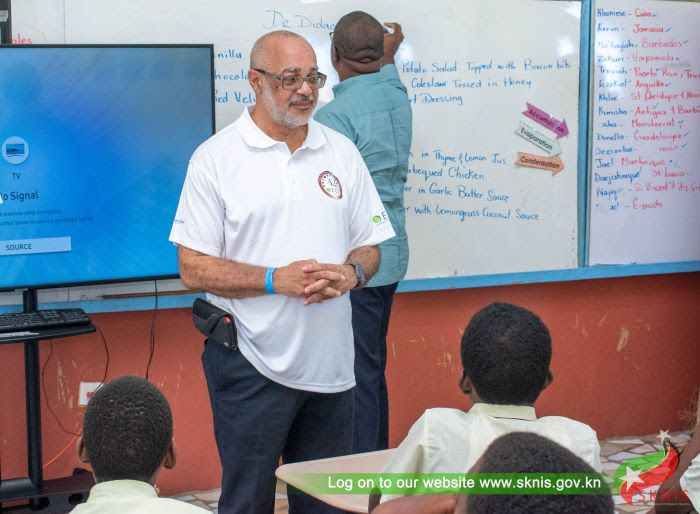 Director-General of the OECS, Dr. Didacus Jules

He added that the Commission is in the process of revising the curriculum for the schools, particularly at the primary school level. He states that this will embed and deepen knowledge of regional integration.

"We have produced a booklet as well as an animated video that will be embedded in the material prepared for the curriculum for use in schools," said Dr. Jules.

Director-General Jules said that hosting the 73rd Meeting of the OECS Authority in St. Kitts and Nevis provides an opportunity to begin the education campaign within primary schools.

Dr. Didacus Jules with students of the Bronte Welsh Primary School