Published 6 July 2023
Basseterre
Buckie Got It Media Source
ATTORNEY-GENERAL ATTENDING 35TH MEETING OF THE OECS LEGAL AFFAIRS COMMITTEE
Rodney Bay, Saint Lucia, July 6, 2023 (SKNIS): The 35th Meeting of the Organization of Eastern Caribbean States (OECS) Legal Affairs Committee is being held on July 6 and 7, 2023 in  Gros Islet, Saint Lucia. Attending the meeting on behalf of the Federation of St. Kitts and Nevis is Attorney-General & Minister of Justice & Legal Affairs, Hon. Garth Wilkin.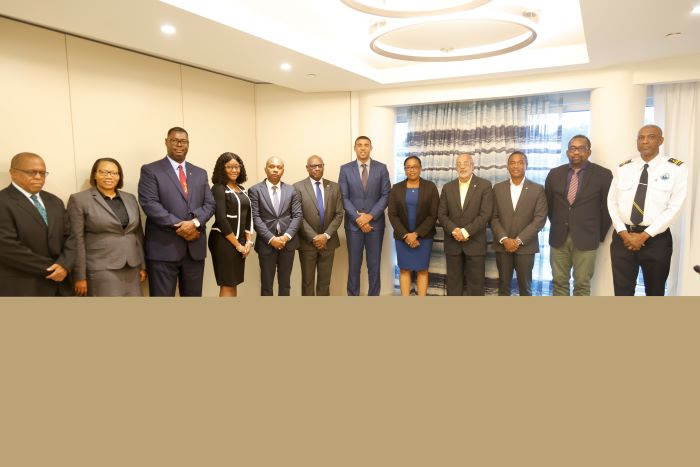 "The OECS Legal Affairs Committee is meeting over two days to discuss and finalize the OECS model Customs Bill. The meeting is being chaired by Hon. Leslie Mondesir, Attorney-General of Saint Lucia. We are currently discussing the Customs Bill which seeks to harmonize our customs laws to properly implement the important OECS Economic Union principles established by the Revised Treaty of Basseterre," said Attorney-General Wilkin.
The OECS Legal Affairs Committee comprises Attorneys-General from each OECS territory and meets twice a year to hold high-level discussions on harmonized legislative bills, the final stage before the bills are tabled for discussion by the OECS Heads of Government. Prior to reaching the Legal Affairs Committee, the OECS drafts the bill, consults with the related government officials, and resolves technical drafting matters with senior parliamentary counsel from each OECS Member State.
Attorney-General Wilkin added that "the OECS is an internationally respected integration movement of which we should all be proud. The Director General, Dr. Didacus Jules, confirmed this morning that the finalization of the Customs Bill is an important step in creating a truly single economic space by providing for goods to be moved between the OECS Member States seamlessly. This is an advanced step in furthering regional integration within the OECS. We are addressing some high-level concerns and ensuring that the Prime Ministers can make a well-informed final decision when the bill is brought to them."



Attorney General Hon. Garth Wilkin (far left)
The OECS Economic Union was established on June 18, 2010, through the signing of the Revised Treaty of Basseterre. It constitutes a single financial and economic space within which all factors of production including goods, services, capital, enterprises, and people are able to move freely throughout the Economic Union Area which comprises seven Protocol Member States: Antigua and Barbuda, Commonwealth of Dominica, Grenada, Montserrat, St. Kitts and Nevis, Saint Lucia and St. Vincent and the Grenadines.