FOR IMMEDIATE RELEASE
Global Support and Development Collaborates with St. Kitts and Nevis to Build Disaster Preparedness Capacity
• The collaboration will support disaster preparedness and response in the Federation
• Humanitarian Vessel, MV DAWN, arrives at Port Zante, Basseterre, to support the disaster resiliency efforts 
Basseterre, St. Kitts, July 22, 2023 (SKNIS): – Beginning on Sunday, July 23, 2023, Global Support and Development (GSD), a humanitarian organization whose mission is to rapidly respond to disasters in collaboration with at-risk communities and support them to prepare for future disasters, will cooperate with St. Kitts and Nevis through the National Emergency Management Agency (NEMA) and the Nevis Disaster Management Department (NDMD) for two weeks of capacity strengthening exercises. GSD's support will augment the ongoing work of the NEMA and the NDMD and will bolster community and locally-led response and preparedness efforts in a coordinated manner.
From Sunday, July 23, Port Zante will also welcome the humanitarian vessel MV DAWN, a state-of-the-art vessel that will be operating in the Caribbean region for the duration of the 2023 Atlantic hurricane season. MV DAWN is operated by GSD and will support disaster preparedness exercises in the Federation up until August 6, 2023.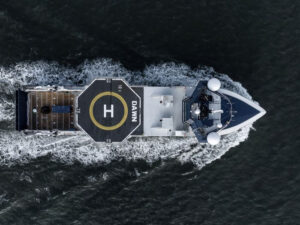 MV Dawn
On Tuesday, July 25, 2023, a ceremony will take place at the Arrival Hall at Port Zante to celebrate the collaboration between the Federation of St. Kitts and Nevis and GSD. The ceremony will be attended by the Prime Minister of St. Kitts and Nevis, Hon. Dr. Terrance Drew alongside GSD's CEO, Dr. Michael Court.
The relationship between GSD and St. Kitts and Nevis aims to enhance coordination and resource mobilization, enabling timely and effective responses to natural hazards. Capacity strengthening exercises are scheduled to begin on the island next week. These exercises include establishing a comprehensive baseline bathymetric survey, which will assess the characteristics and profile of the seabed, enhancing the region's understanding of its maritime infrastructure. This survey will enable data-driven decision-making and pave the way for effective coastal resource management and rapid post-disaster assessments in support of reopening maritime infrastructure.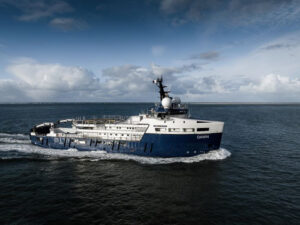 MV Dawn

National Disaster Coordinator at NEMA, Mr. Abdias Samuel said:

"The National Emergency Management Agency (NEMA) and Nevis Disaster Management Department are delighted for the opportunity to foster a relationship with a resourceful Non-Governmental Organization such as Global Support and Development. Small Island Developing States (SIDS) such as ours require an all of society and inclusive approach to mitigating, preparing for and responding to the increased risk of climate change. 

"The realization of this commitment of friendship being demonstrated by GSD to support nation building before and after catastrophic events signifies the undertaken obligation by NEMA and its partners to increase the cadre of resource-based support from critical partners and to ensure the maximum sustainability of the lives and livelihoods of all occupants in our Federation. 

"It's the desire of the NEMA to forge fruitful relationships with national, regional and international stakeholders that are fueled by a passion to build a more resilient St Kitts and Nevis. 

"The visit of GSD Team and the humanitarian vessel the MV Dawn concretizes their support to the people and government of St Kitts and Nevis." 

For further details about the partnership between GSD and St. Kitts and Nevis, as well as the events taking place next week, please contact the NEMA office at 466-5100 or email [email protected] Representatives from GSD and government officials will also be available to provide additional information about the partnership after the ceremony.