Published 27 July 2023
Basseterre
Buckie Got It, St Kitts Nevis News Source
Prime Minister Hon. Dr. Terrance Drew and Family Holds a Candlelight Vigil to Honour the Life and Memory of his Father Michael 'Mick Stokes' Heyliger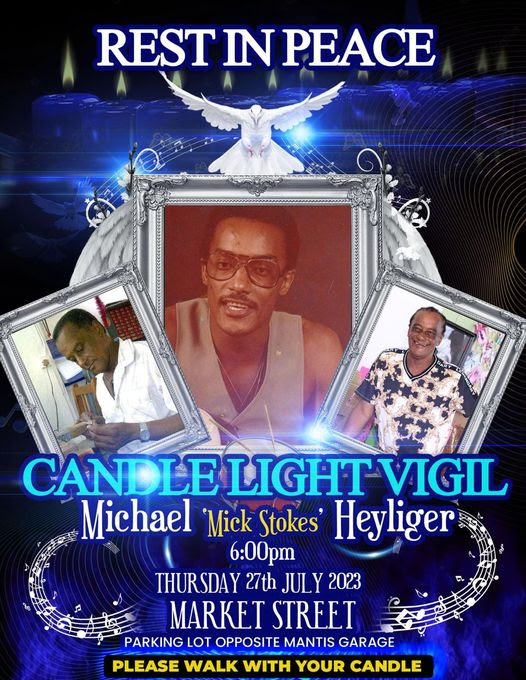 Basseterre, Saint Kitts and Nevis, July 27, 2023 (Press Secretary, PMO) – To honor the life and legacy of Michael 'Mick Stokes' Heyliger, father of Prime Minister of Saint Kitts and Nevis, Hon. Dr. Terrance Drew, popular radio personality and DJ, Michele 'Sweet Sister Sensia' Stokes, a candlelight vigil will be held today, Thursday 27th July 2023 at 6:00 pm.
The vigil will begin at Mick Stokes' shop on Fort Street at 6:00 pm and proceed up to Victoria Road, across to Nevis Street, over to College Street Ghaut, and congregate at the parking lot opposite Mantis Garage at Market Street, Basseterre. This solemn gathering will provide an opportunity for friends, colleagues, and the general public to join the Prime Minister and his family in a moment of reflection and remembrance. The candlelight vigil represents a symbol of hope, unity, and support during this difficult time of bereavement.
The funeral service for Michael 'Mick Stokes' Heyliger will be held on Wednesday 2nd August 2023 at 2:00 pm at the Newtown Playfield, Ponds Extension, Basseterre. This service will be a dignified occasion to celebrate his life, mourn his passing, and extend heartfelt condolences to the grieving family. As a mark of respect for the departed and in recognition of his contributions to the community, and the culture and heritage of the Federation, various dignitaries and officials will be present to bid farewell.
Prime Minister Hon. Dr. Terrance Drew expressed his gratitude for the outpouring of condolences and support during this challenging time, stating, "My family and I are deeply touched by the overwhelming show of love and sympathy from the people of Saint Kitts and Nevis. My father was a source of inspiration and strength, and he will be dearly missed. We find comfort in the shared memories and support from our fellow citizens as we navigate this difficult period of mourning."
During this period of mourning, the government is committed to providing support and comfort to the Prime Minister, his family, and the wider community. The nation grieves the loss of a beloved father and cultural icon and honours the memory of Michael 'Mick Stokes' Heyliger.