Published 5 August 2023
Basseterre
Buckie Got It, St Kitts Nevis News Source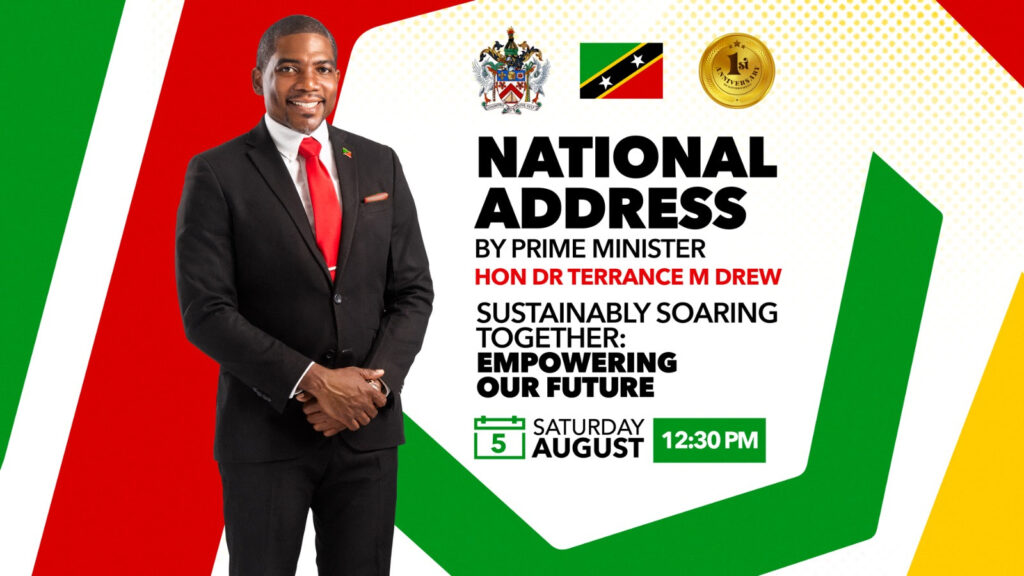 Prime Minister's Speech on the Occasion of
The First Anniversary of
The St Kitts-Nevis Labour Party Administration at the Helm of Government
My brothers and sisters of the Federation of Saint Kitts and Nevis, in the tradition of human experience, we celebrate important landmarks such as birthdays and anniversaries and use them to take stock of where we are and where we are heading. It is a way of giving thanks; of connecting with the people we hold dear; celebrating ourselves, our achievements, our aspirations, our shared values; and of honouring our traditions.

Today marks the one-year anniversary of our St. Kitts-Nevis Labour Party's Administration and we are reminded of all the reasons for celebration. I pause today therefore on behalf of this historic Party, that it is my honour to lead, a Party which has contributed tremendously to the lives and well-being of the people of Saint Kitts and Nevis. I particularly want to express gratitude to our citizens and residents for the continued cooperation and commitment to working with your government over the last year, towards a better Saint Kitts and Nevis "for the good that we can do". Thank you to all the citizens and friends of our country, at home and abroad, who are making this journey with us.

The people of this country can feel an immense sense of pride and gratitude for the incredible progress which has been made in the last year. We are a people united in our vision to transform this nation into a "Sustainable Island State" – a beacon of resilience and progress in the face of global challenges, a flagship country in the OECS and in the Caribbean, and a towering model among small island developing states.

Since the election of August 5th, 2022, my colleagues and I set out to transform Saint Kitts and Nevis into a Sustainable Island State, built on Seven Pillars of Change, and to build the resilience which will protect our country and people from shocks of all types. On this journey, we have tackled many obstacles; we have transformed threats into opportunities; we converted weaknesses into strengths; and we turned tragedies into triumphs.

Against this background, it is, therefore, my duty, honour, and an absolute pleasure to report what your Government has been doing for you.

YOUR JOBS & THE NATIONAL ECONOMY
In the first quarter of this year, the economy rebounded significantly with growth in multiple sectors such as tourism, agriculture, financial services, and the strengthening of the Citizenship by Investment Programme. We saw surpluses of over 50% with more than 2,500 jobs being created. The month of June was historic for Inland Revenue, where the highest-ever tax collection was registered, despite no new taxes, no increase in existing taxes nor the restoration of reduced tax rates. Additionally, the Development Bank was able to provide over 300 small business loans. This demonstrates that the foundation of the economy is sound, and we are on track to full economic recovery as we battle through this difficult and challenging post-COVID period, complicated by the existential threat of climate change, conflicts and disruptions in global supply chains, and lack of access to concessionary loans from the mainstream international financial institutions. Despite all of these challenges, we are on track to full economic recovery by the end of 2023. Further, we will receive a study on revenue sharing between Saint Kitts and Nevis shortly and it is our intention to create a sovereign wealth fund to safeguard our financial future.

On taking office last August, we immediately removed all COVID-19-related health and travel restrictions based on scientific data, allowing our nation to reopen and welcome thousands of our own people and visitors alike. Tourism has since witnessed a remarkable resurgence, further boosted by the successful launch of the "Venture Deeper" Tourism Brand Campaign, attracting more than 800,000 long-stay visitors and cruise passengers to our shores in the past year. This significant influx of visitors highlights the nation's growing popularity as a premier destination for cruise tourism.

Notably, we welcomed the inaugural visit of the world's largest cruise liner [at that time], the Wonder of the Seas, and the addition of InterCaribbean Airlines, JetBlue, and Caribbean Airlines to our air transport roster, expanding travel options and further stimulating economic growth. This created greater economic activity for the persons and sectors that rely on tourism.

To ease the cost of living for our citizens, we extended the full, discounted VAT 2-day packages, not just during Christmas but to three times per year —adding Easter and Summer to the existing Christmas bonanza. Additionally, we implemented a duty-free allowance for barrels and containers of foodstuff up to 400 pounds in weight, benefitting travellers, and non-commercial importers with a duty-free allowance of EC $540 or US $200 off the Cost, Insurance, and Freight (CIF) value of goods. Additionally, we have subsidized the cost of fuel significantly, and the cost of electricity to the tune of $9 million per month. Overall, we are spending over a quarter of a billion dollars per year in an effort to ease the burden on our people.

YOUR HEALTHCARE
At the heart of our vision for a "Sustainable Island State," is the wellbeing of our people. We have made significant investments in healthcare, including preparations for the construction of a modern hospital, comprehensive life support systems training for over 250 healthcare workers, as well as ensuring that the Ministry of Health is equipped with a full cadre of administrative and technical officers: we have doubled the number of internists and biomedical engineers at our JNF General Hospital; a resident neurologist has been added for the first time in our history; increased our elderly care assistants by over 50%; added 15 dialysis machines to our fleet; and added over three dozen pieces of critical medical equipment to JNF General Hospital wards.

Additionally, we have purchased new equipment for the Ophthalmology Lab, reopening the avenue for persons to receive much-needed eye care. Surgeries started on May 23rd and a total of 126 eye surgeries have been successfully completed to date at the Ophthalmology Lab or the Eye Clinic at the JNF General Hospital. The wait time has also been significantly reduced from months to two to three weeks. This is remarkable progress.

These investments, and more, have led to improved healthcare services for our people. I have also been particularly pleased with the number of children's lives we have saved over the past year through the Ministry of Health's Children Medical Assistance Programme. Our financial assistance programme has extended a lifeline to over 30 children in need of medical treatment overseas. Previously, parents had to depend on GoFundMe campaigns and sponsor sheets to give their children a chance at life. One can imagine that many of these children died due to a lack of care, mainly affecting the poorest among us. Protecting our future by protecting our youth is of the utmost importance. I must also update that the MRI procurement process is fully underway.

YOUR HOUSING & SOCIAL PROTECTION
By its very definition, a "Sustainable Island State" means providing every citizen with a safe and comfortable home. Our Climate Smart Homes Initiative has accomplished just that and will deliver 2,400 modern and energy-efficient homes to families. Minister of Housing, the Hon. Dr. Geoffrey Hanley and I conducted a site walkthrough for the NHC Housing Project model homes, at Conaree, situated directly across from the Children's playground, as well as at Taylor's yesterday. These homes will be equipped with cutting-edge technology to reduce their carbon footprint, demonstrating our commitment to environmental responsibility and climate adaptation.

To emphasize our provision for the most vulnerable amongst us, we have revamped the Poverty Alleviation Program (PAP), supporting over 5300 households during these very challenging times to the tune of over $30 million per year. We have empowered our youth and created increased opportunities for them, through the Girls Empowerment Program and the Elevate Programme just to mention a few. These pave the way for future leaders who will champion sustainability and social equity.

YOUR SPORTS & ENTERTAINMENT
The path to a "Sustainable Island State" must include the active engagement of our youth. By including qualified young persons under the age of 35 in national committees and statutory bodies, we have been more inclusive as a Government, giving our young people a greater say in national affairs and laying the groundwork for a future generation of leaders who will shape a more sustainable future.

The "Orange Economy" or Creative Economy has thrived through initiatives such as MoENT TV's reality show, "Let's Do This!".These platforms showcase our artistic talents while inspiring creativity and innovation. Our successful hosting of CPL T20, CONCACAF Caribbean Club Shield, Sugar Mas 51, the 25th edition of the St. Kitts Music Festival, and similar cultural activities, have catalysed significant contributions to our economy while focusing on the flourishing of our national culture and heritage. Furthermore, we recently witnessed the spectacular launch of the first-ever dedicated Government Department of the Creative Economy along with the assignment of cultural and musical Ambassadors.

YOUR ENVIRONMENT & FOOD SECURITY
A "Sustainable Island State" requires responsible stewardship of our food resources and preservation of the environment. It is in this context, we have taken significant steps towards banning single-use plastics in the next year, even as our plastic recycling initiatives like 'No Plastic Bag Mondays' are ongoing.

We have taken proactive steps to conserve water resources while simultaneously moving to boost agricultural production and positively impact food and nutrition security. New wells for water are being explored and we have struck water in Cayon. In addition, desalination plants have been approved for construction in the short term. Upgrades to the Old Road and Basseterre Fisheries Complex have enhanced the sustainability of our fishing industry while supporting local fisherfolk. The decriminalization of marijuana has opened avenues for a medical marijuana industry that will be sustainable and become a source of jobs and foreign exchange earnings for nationals. The launch of the 25 by 25 agricultural initiative where we seek to reduce our food imports by 25% by 2025 is a significant part of our food security strategy.

YOUR ENERGY
Energy is at the cornerstone of building a Sustainable Island State. To this end, we are committed to expanding our renewable energy sources to both decrease the cost of energy to our people and to decrease our dependence on fossil fuels. Thus, the Federal Government is in collaboration with the NIA (Nevis Island Administration) and has approached the CDB (Caribbean Development Bank) for a grant loan of $17 million USD to explore geothermal energy on Nevis – a historic step. Moreover, we have re-negotiated the new solar energy plant to the benefit of our people. Additionally, we are now ready to put out RFPs to invite investments in other renewable energy sources, while discussing with Saudi Arabia to invest in this sector. We have also signed MOUs with Elswaidi of the AFREXIM Bank for the expansion of our renewable energy sources. Energy as a sector must be developed to offset the unsustained subsidizing of electricity to the tune of $9 million per month. This new sector has the potential of providing hundreds of new jobs and becoming an additional revenue stream. This will ensure that the poorest among us will continue to be protected.

YOUR EDUCATION & SCHOLARSHIPS
Education is the cornerstone of national progress, sustainability, and upward mobility for our people. Your Government has slashed student loan interest rates by nearly half to now 5%, enabling over 2,000 students to pursue higher education without undue financial strain. The "Graduate Finance" Project has empowered our graduates to build their future with a $15,000 credit for loan repayments. Additionally, CFB College is now tuition-free. This makes education from preschool to college accessible to even the poorest among us, furthering the dream of our first national hero, Robert Llewelyn Bradshaw.

We are dedicated to providing specialized care to every child, including those with special needs and those who learn differently. The identification of a suitable location at the site of the former Estridge Primary School, for a standalone Centre for Special Education and autism spectrum services, will ensure that no child is left behind and that all of our children are able to achieve their full potential.

YOUR SECURITY
Security is at the foundation of achieving a "Sustainable Island State". To this end, your Government has invested heavily in the national security apparatus. We have restarted police training with over 30 new recruits, restarted the K-9 unit and invested in upgraded CCTVs. We have also expanded cooperation with the United States, the United Kingdom, and Canada, and retained two experienced security experts, who are citizens, as advisors. The approach of confronting crime and violence from a public health perspective and the launching of the new Elevate Programme are new and innovative modalities in addressing the scourge of crime and violence that is affecting the entire Caribbean.

YOUR GOVERNMENT
As St Kitts and Nevis strives to become a "Sustainable Island State," we must anchor our governance in integrity, transparency, and accountability. Your Government has maintained a robust legislative agenda and has passed over 20 bills in our Parliament over the last year. We are extremely proud to amend the Domestic Violence Act so that women, and men, who are victims of domestic violence have easier access to protection orders. The Anti-Corruption Act empowers our citizens to root out corruption, ensuring that our government remains focused on the greater good.

Freedom of Information and Integrity in Public Life Legislation establishes an Information Rights Unit, promoting transparency and accessibility. Adequate resourcing of the Public Accounts Committee guarantees that your Government accounts to taxpayers for every cent spent. This piece of legislation is historic.

The passing of the Rastafari Rights Recognition Bill, 2023 is another major historic accomplishment for our Federation, making Saint Kitts and Nevis the first in the OECS to bring into compliance with the Constitution the laws regarding Rastafarians, allowing them to freely exercise their religious and educational practices.

Fellow citizens and residents, our exciting and rewarding journey toward a "Sustainable Island State" has only just begun. As we reflect on just a few of the past year's achievements:
Let us renew our commitment to building a greener, more prosperous, more just, and inclusive nation for generations to come.
Let us nurture the flame of national pride and togetherness.
Let us work together to steer our country toward a future of hope and resilience.
Fellow citizens and residents, the state of our Federation is STRONG!

I would like to thank the members of the Cabinet A-team for their diligence and hard work over the past year on behalf of you, the people of Saint Kitts and Nevis, I could not have done it alone. I therefore name:
The Hon. Dr. Geoffrey Hanley
The Right Hon. Dr. Denzil Douglas
The Hon. Konris Maynard
The Hon. Garth Wilkin
The Hon. Marsha Henderson
The Hon. Samal Duggins
The Hon. Senator Dr. Joyelle Clarke
The Hon. Senator Isalean Phillip

And to name the Ambassadors who have lent their support:
Ambassador His Excellency Kenneth Douglas
Ambassador His Excellency Leon Natta

Your Government, give you thanks for your unwavering support and I ask you to hold steadfastly to this vision for our nation which will define our place in the Caribbean and the world and guarantee us sustainable prosperity.

May God bless Saint Kitts and Nevis and all her people, as we create and exemplify a shining example of a "Sustainable Island State."