Published 30 August 2023
Basseterre
Buckie Got It, St Kitts Nevis News Source
SEVEN INDIVIDUALS FROM ST. KITTS AND NEVIS SECURE SCHOLARSHIPS FOR ENVIRONMENTAL AND SUSTAINABLE LAND MANAGEMENT STUDIES
Basseterre, St. Kitts, August 30, 2023 (SKNIS): In alignment with the National Global Environment Facility (GEF) project titled "Improving Environmental Management through Sustainable Land Management," managed by the Ministry of Sustainable Development, a cohort of seven citizens of St. Kitts and Nevis has been granted scholarships for postgraduate studies.
The deserving recipients of these scholarships are Chezon Tuckett, Taji Hamilton, Versel Hendrickson, Orisia Williams, Biesha Christian, Kevin Jeffers, and Cordeisere Walters. Their academic pursuits will encompass various domains, including Geographic Information Systems, Environmental Planning and Management, and Sustainable Lands and Cities.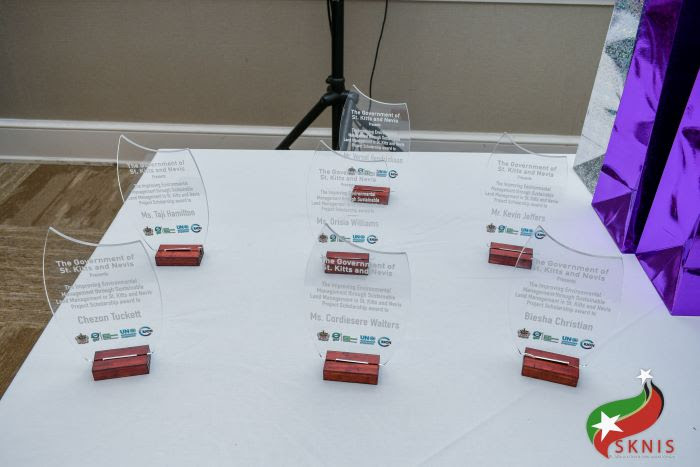 During a concise yet impactful event held on Wednesday, August 30, 2023, at the St. Kitts Marriott Resort, the Honourable Dr. Joyelle Clarke, Minister of Sustainable Development, Constituency Empowerment, Environment, and Climate Action, affirmed that the government has reached a juncture where it can enable public servants and individuals alike to attain economic freedom for continuous education. With no room for postponement, there exists every opportunity to engage in learning endeavours, Dr. Clarke added.
Dr. Clarke extended acknowledgement to Cabinet Members, personnel within her ministry, the Ministry of Education and other key stakeholders for their contributions. She highlighted the Ministry of Education as a pivotal collaborator, emphasizing its role as a significant ally in the shared aspiration of propelling St. Kitts and Nevis towards the realization of a sustainable island state.
"We cannot future-proof our country if we do not educate the people of St. Kitts and Nevis. [Through this scholarship programme], we are proving and showing the nation that when we as a government, as a ministry speaks about sustainable development, transitioning to a sustainable island state, that we are providing you with the resources to do so," said Dr. Clarke.
The "Improving Environmental Management through Sustainable Land Management" project spans five years (2020-2025) and is financed by the GEF. It is being executed by the International Union for the Conservation of Nature (IUCN) and implemented through the United Nations Environment Programme (UNEP) in partnership with the Ministry of Sustainable Development within the Government of St. Kitts and Nevis.  This project is dedicated to the transformation of depleted forest landscapes into ecologically sustainable areas for agricultural production while fostering biodiversity and climate resilience.

A central facet of the project involves the Project Scholarship Programme (PSP), which facilitates specialized training to enhance the expertise of current and prospective government personnel. This strategic initiative addresses critical knowledge gaps related to the project's focus, contributing to the augmentation of national capacities.