Government of Saint Kitts and Nevis Addresses Back-to-School Voucher Initiative Application Concerns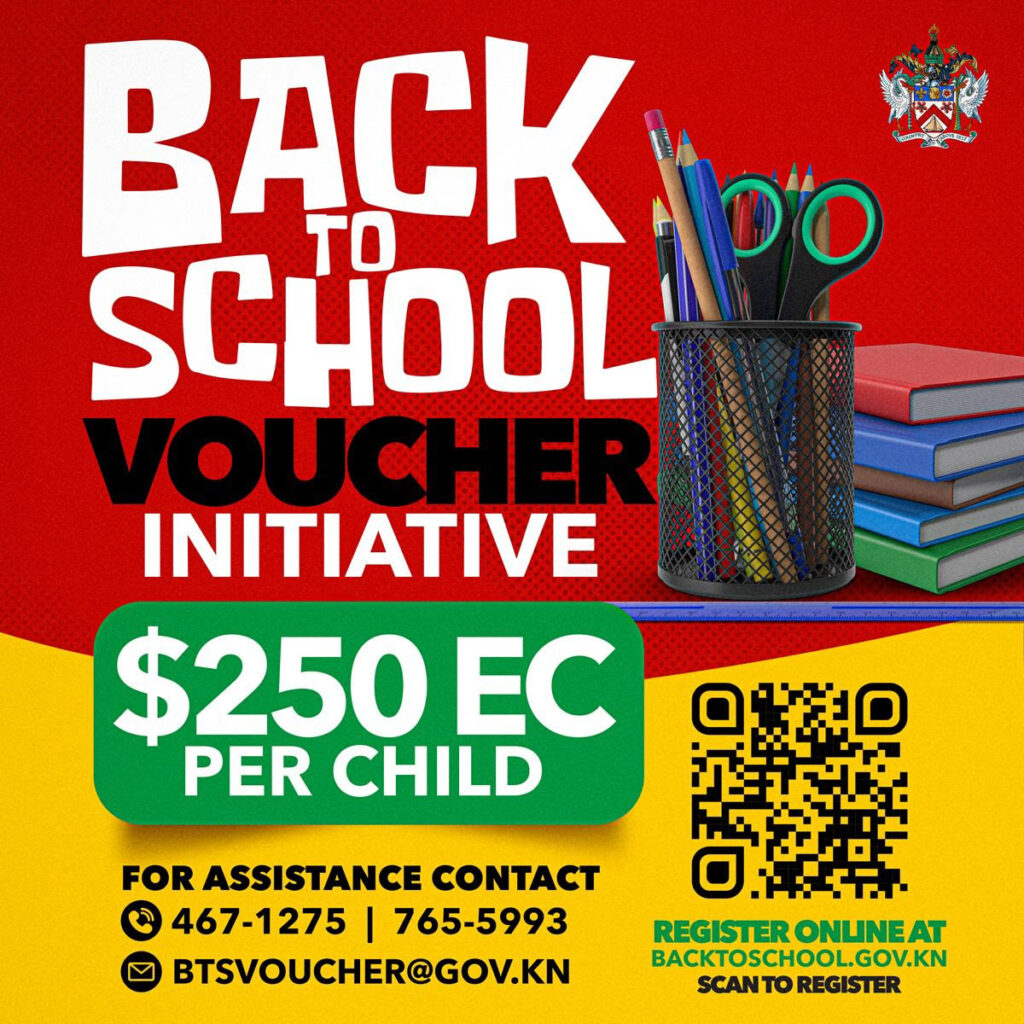 Basseterre, Saint Kitts and Nevis, August 31, 2023 (Press Secretary, PMO) – The Government of Saint Kitts and Nevis wishes to address concerns that have arisen regarding the recently implemented Back-to-School Voucher Initiative, aimed at assisting custodial parents and guardians of students in both public and private primary and secondary schools with back-to-school expenses.

While the initiative was introduced with the best intentions, the Ministry of Social Development and the Ministry of Education deeply regret any inconvenience that individuals may have encountered during the application process and extend sincere apologies to those affected.

Key Points to Note:

Technical Difficulties for Parents with Multiple Children: The registration platform for the Back-to-School Voucher Initiative faced technical difficulties specifically related to parents with multiple children. This issue, which revolved around registering parents with more than one child, has been successfully rectified. New applicants are now able to proceed without encountering further complications. It is advised to select the number of children before proceeding to input their names.
Assistance for Previously Submitted Applications: For individuals who previously applied but encountered errors or were unable to input the names of multiple children, a solution has been devised. Those facing this predicament are kindly asked to contact

[email protected]

. In the email, include your unique assigned registration number along with a description of the issue encountered. A link will then be provided to enable you to edit or update your previously submitted application form.
Extended Deadline and Application Assistance: With the technical issues resolved, the deadline to access the assistance offered through the Back-to-School Voucher Initiative has been extended until September 30th. Those seeking assistance with the application process can visit the Help Desks at the Ministry of Education at the Stanford Building near the airport or at the Ministry of Social Development on Victoria Road, Basseterre.
Contact for JAD Cash Wallet Issues: For individuals experiencing problems with accessing the JAD Cash Wallet subsequent to applying, a dedicated contact number is available: (869) 661-5237.

For additional assistance or inquiries, please reach out to the Ministry of Social Development at (869) 467-1275 or (869) 765-5993.

The Government remains committed to ensuring that the Back-to-School Voucher Initiative is accessible and beneficial to all eligible individuals and apologizes for any inconvenience experienced during the application process.