Published 15 September 2023
Basseterre
Buckie Got It, St Kitts Nevis News Source
CABINET MINISTERS WRAP UP THEIR SUCCESSFUL VISITS TO SCHOOLS ACROSS ST. KITTS AS PART OF THE INDEPENDENCE 40 CELEBRATIONS
BASSETERRE, St. Kitts, September 15, 2023 (SKNIS) – Members of the Federal Cabinet concluded their visits to schools and educational institutions across St. Kitts on Thursday, September 14 with stops at the various secondary schools and the Clarence Fitzroy Bryant College (CFBC).

The excitement surrounding the Federation's Independence Anniversary, as well as having the opportunity to interact with the leaders of the Government, was truly evident among the primary, secondary and tertiary school students at each stop during the series of visits.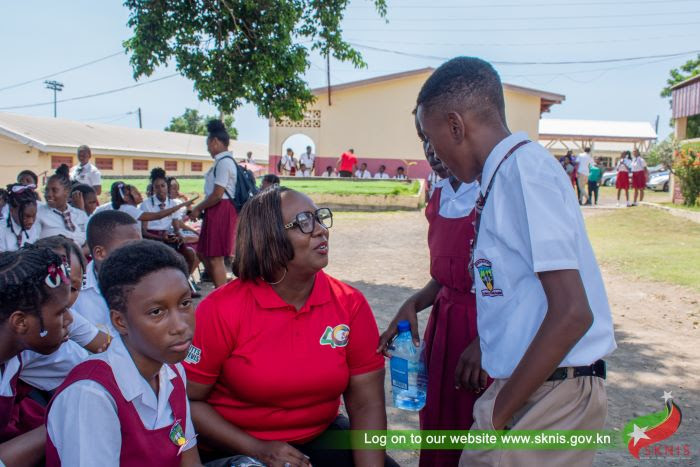 The Government Ministers' visits to schools have been a longstanding tradition during the annual Independence celebrations. The Federation of St. Kitts and Nevis is this year celebrating 40 years as a sovereign nation.
 
In speaking to the students, Prime Minister the Honourable Dr. Terrance Drew enlightened them on how far St. Kitts and Nevis has come, particularly in the field of education, since the Federation gained Independence 40 years ago.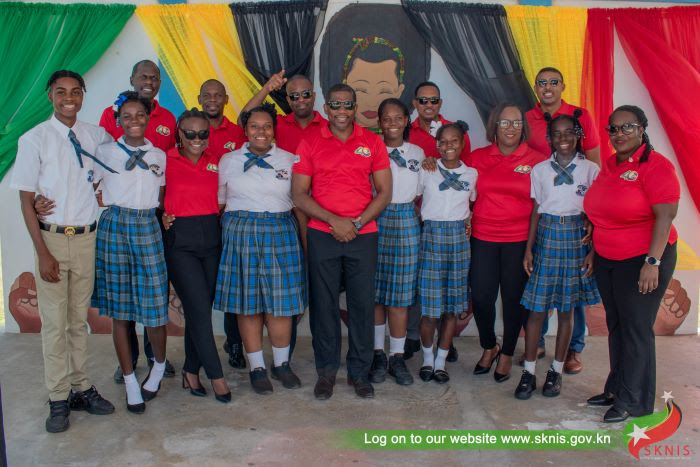 He said, "Before Independence, we had an education system that did not afford all of our people quality education. Today, you stand as students with the possibility of becoming whatever you wish to become. If you wish to become a tradesman, you can do that; if you wish to become someone who is into IT, you can do that; if you wish to become a lawyer, you can do that. Whatever you wish to become, you can become because of Independence and what this country has delivered for all of us."

Furthermore, Dr. Drew impressed upon the students the important roles they must play in the further advancement of the Twin Island Federation.

"The theme [Independence 40] is built on sustainability, maturity and resilience. Those are the three things that I want you as students to keep in mind. You are critically important to building this country, you are critically important to moving St. Kitts and Nevis forward. We cannot do it without you, so as we move forward to build a Sustainable Island State, we are asking all of you as students to participate in the building of this country," the prime minister said.

Prime Minister Dr. Drew said his government will continue to support the educational advancement of the nation's students. In this regard, the honourable prime minister alluded to several measures introduced by his administration to assist students, including the Back-to-School Voucher Initiative and the re-implementation of the One-to-One Laptop Initiative in all primary and secondary learning institutions in St. Kitts and Nevis.

"College from this year is free for all of our students, so parents don't have to pay for college anymore. This is our investment in you as students," the prime minister said. "So, we are making sure you have computers, you will also have access to internet, you get the monies so that you can prepare for school and when you are ready to go to [the Clarence Fitzroy Bryant College], college will be free."

The Independence 40 celebratory activities continue over the weekend with the National Heroes Day Observance and Wreath Laying Ceremonies. The National Heroes Day Freedom Concert on Nevis takes place on Saturday, September 16, as well as the National Service of Gratitude and Gospel Concert slated for Sunday, September 17 at the Conaree Playing Field, starting at 4 p.m.