Published 28 September 2023
Basseterre
Buckie Got It Media Source
TROPICAL CYCLONE ALERT STATEMENT
WHCA31 TAPA
TROPICAL STORM PHILIPPE ALERT STATEMENT ANTIGUA AND BARBUDA METEOROLOGICAL SERVICES 7:00 AM ECT THU, SEP 28, 2023
THIS IS FOR THE LEEWARD ISLANDS AND BRITISH VIRGIN ISLANDS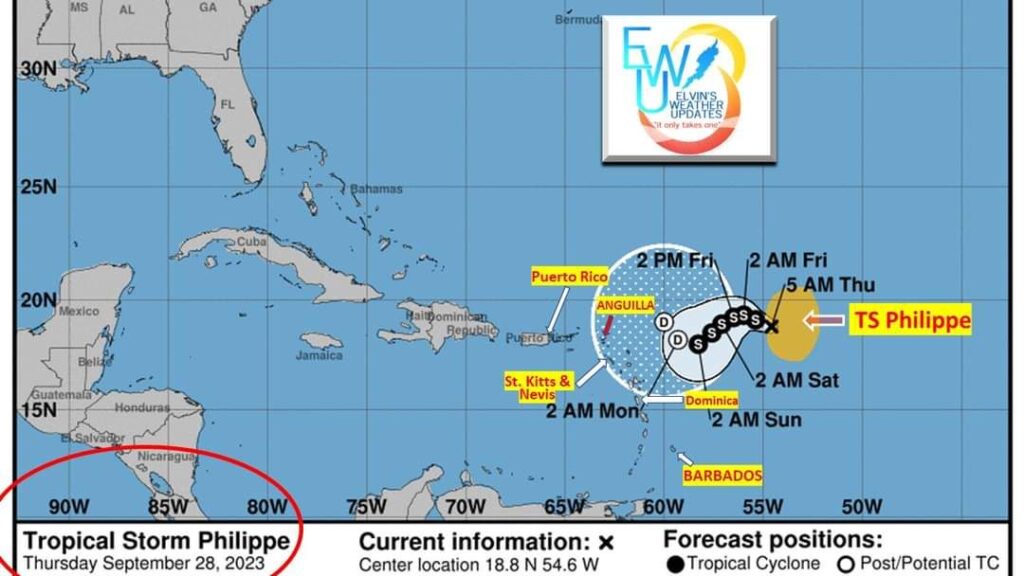 A TROPICAL CYCLONE ALERT REMAINS IN EFFECT FOR ANTIGUA AND BARBUDA, THE REST OF THE LEEWARD ISLANDS AND THE BRITISH VIRGIN ISLANDS. A TROPICAL CYCLONE ALERT MEANS THAT A TROPICAL CYCLONE IS IN THE AREA OF CONCERN AND WATCHES AND WARNING MAY BE REQUIRED IN 18 TO 24 HOURS
AT 500 AM AST (0900 UTC), THE CENTER OF TROPICAL STORM PHILIPPE WAS LOCATED NEAR LATITUDE 18.8 NORTH, LONGITUDE 54.6 WEST. OR 542 MILES EAST OF THE ST. KITTS AND NEVIS.

PHILIPPE IS MOVING TOWARD THE WEST-NORTHWEST NEAR 5 MPH (7 KM/H). A SLOW WEST-NORTHWESTWARD TO WESTWARD MOTION IS FORECAST DURING THE NEXT DAY OR SO, FOLLOWED BY A SLOWER WESTWARD TO WEST-SOUTHWESTWARD MOTION BY THIS WEEKEND.
MAXIMUM SUSTAINED WINDS ARE NEAR 50 MPH (85 KM/H) WITH HIGHER GUSTS. LITTLE CHANGE IN STRENGTH IS FORECAST DURING THE NEXT DAY OR SO, WITH SLOW WEAKENING FORECAST THIS WEEKEND.
TROPICAL-STORM-FORCE WINDS EXTEND OUTWARD UP TO 175 MILES (280 KM)FROM THE CENTER.

THE ESTIMATED MINIMUM CENTRAL PRESSURE IS 1002 MB (29.59 INCHES).

PHILLIPE CONTINUES TO MOVE SLOWLY BUT WITH HIGHER LEVELS OF UNCERTAINTY IN IS FORECAST TRACK AND STRENGTH. BASED ON THE LATEST INFORMATION, PHILLIPE OR ITS REMNANTS COULD BE NEAR THE NORTHERN LEEWARD DURING THE WEEKEND; IT IS STILL UNCLEAR WHAT IMPACTS OTHER THAT PROPAGATING SWELLS COULD BE REALIZED FROM THE SYSTEM; THIS WILL BECOME CLEAR IN TIME.

AT THIS TIME, NO WATCHES OR WARNINGS ARE IN EFFECT; HOWEVER, RESIDENTS OF THE LEEWARD ISLANDS AND BVI ARE URGED TO CLOSELY FOLLOW THE PROGRESS OF TROPICAL STORM PHILIPPE AS QUICK ACTION MAY BE REQUIRED IF A WATCH
OR WARNING BECOMES NECESSARY.
THE NEXT UPDATE WILL BE GIVEN BY MIDDAY TODAY OR SOONER IF REQUIRED
FORECASTER LENARD JOSIAH