Published 24 October 2023
Basseterre
Buckie Got It, St Kitts Nevis News Source
INNOVATIVE CREATIVE ARTS CENTRE CONSULTATION AND MIXER PAVES WAY FOR A NEW ERA OF ARTISTRY IN ST. KITTS AND NEVIS
Basseterre, St. Kitts, October 24, 2023 (SKNIS): A significant stride in the world of art and creativity was witnessed on Monday, October 23, as stakeholders, particularly creatives convened at the Cuna Conference Room for the Creative Arts Centre Consultation & Mixer.
This landmark event was organized with the primary aim of presenting the projected plans for the upcoming Creative Arts Centre. It offered a unique platform for artists, designers, developers, and other stakeholders to come together, sharing their visions, expertise, and insights. The consultation served as a vibrant nexus for showcasing the design and purpose behind the creation of the Centre.
Attendees were encouraged to actively participate, and contribute their suggestions, enhancements, and critiques. This interactive approach ensured a collective dialogue, keeping the design and vision of the Centre in tune with the needs and aspirations of the creative community.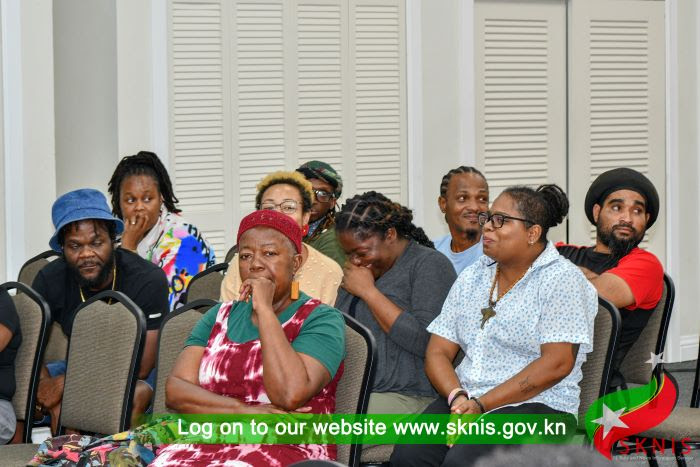 The Honourable Samal Duggins, Minister of The Creative Economy, passionately voiced his long-held dream of a dedicated space for the arts.
"Today, I sit here honoured to be the Minister of the Creative Economy and not just to be the minister but the minister to be delivering the Creative Arts Centre," said Minister Duggins. "For years, I have provided a home for entertainers through Island Expressions and for years I had to go through the struggles of finding places to host entertainment gigs. For years, we have had to struggle with venue operators and owners trying to negotiate a space where we could have some sort of place where we could express ourselves and showcase our talents."
Minister Duggins further declared that it is important to set "a foundation that our creatives can look at and say that is my home, that belongs to us." He lauded the endeavour as one that promises to establish the "best home in the entire Hemisphere" for the creatives.
Acknowledging the collective effort behind this initiative, Minister Duggins expressed gratitude to Faron Lawrence and the dedicated team of developers, the Honourable Dr. Terrance Drew, Prime Minister, and his Cabinet Colleagues, the people of St. Kitts and Nevis, and particularly the constituents of constituency four.
In a touching tribute, Minister Duggins lauded the creatives, expressing his desire for the Centre to stand as a testament to their dedication and talent, and as a "masterpiece" they can look back on with pride for generations to come.

Minister Duggins said that with a foundation now set, the future looks promising for the Creative Arts Centre and the countless artists and creatives it seeks to serve.