SFD inks two framework MoUs for Caribbean infrastructure and energy projects
Published 17 November 2023
Basseterre
Buckie Got It Media Source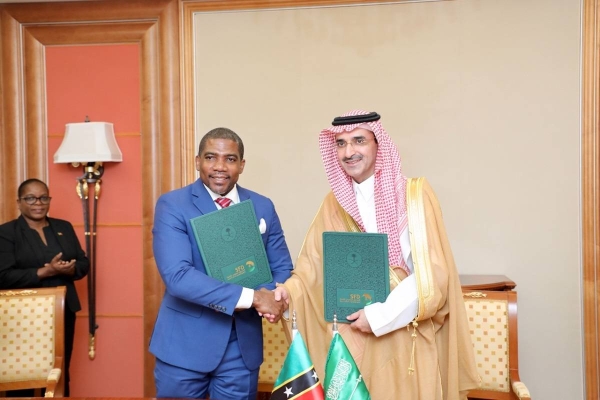 RIYADH — The Chief Executive Officer of the Saudi Fund for Development (SFD), Sultan Al-Marshad, signed two pivotal Framework Memoranda of Understanding (MoUs) on Thursday with the governments of Saint Vincent and the Grenadines, and Saint Kitts and Nevis.
The signing, held in Riyadh, serves as a prelude to the Saudi–CARICOM Summit commencing on Thursday.

The first MoU, inked with the Prime Minister of Saint Vincent and the Grenadines, Hon. Ralph E. Gonsalves, outlines that SFD will allocate $50 million to finance the Expansion, Construction, and Rehabilitation of a Number of Buildings and Facilities Affected by Natural Disasters Project. This funding will play a crucial role in restoring essential infrastructure, promoting sustainable development, and bolstering the nation's economic resilience in the aftermath of natural disasters.
The second MoU, signed with the Prime Minister of Saint Kitts and Nevis, Hon. Terence Drew, designates $40 million for financing the expansion of the Needsmust Power Plant Project. This financial support from SFD aims to contribute to the nation's energy supply and foster socio-economic development in Saint Kitts and Nevis.

Both MoUs underscore SFD's steadfast commitment to fostering sustainable development in the Caribbean region, emphasizing the significance of international cooperation and solidarity in achieving the SDGs and promoting social and economic growth, particularly in Small Island Developing States (SIDS).

Aligned with its mission to champion global sustainable development since 1975, SFD has funded over 800 development projects, totaling $20 billion, in more than 100 countries worldwide. Actively engaged in development projects within CARICOM member states for nearly four decades, SFD has, in the current year alone, provided approximately $670 million in financing for 12 development projects.
https://saudigazette.com.sa/article/637793/SAUDI-ARABIA/SFD-inks-two-framework-MoUs-for-Caribbean-infrastructure-and-energy-projects