Published 6 September, 2021
Basseterre
Buckie Got It, St. Kitts and Nevis News Source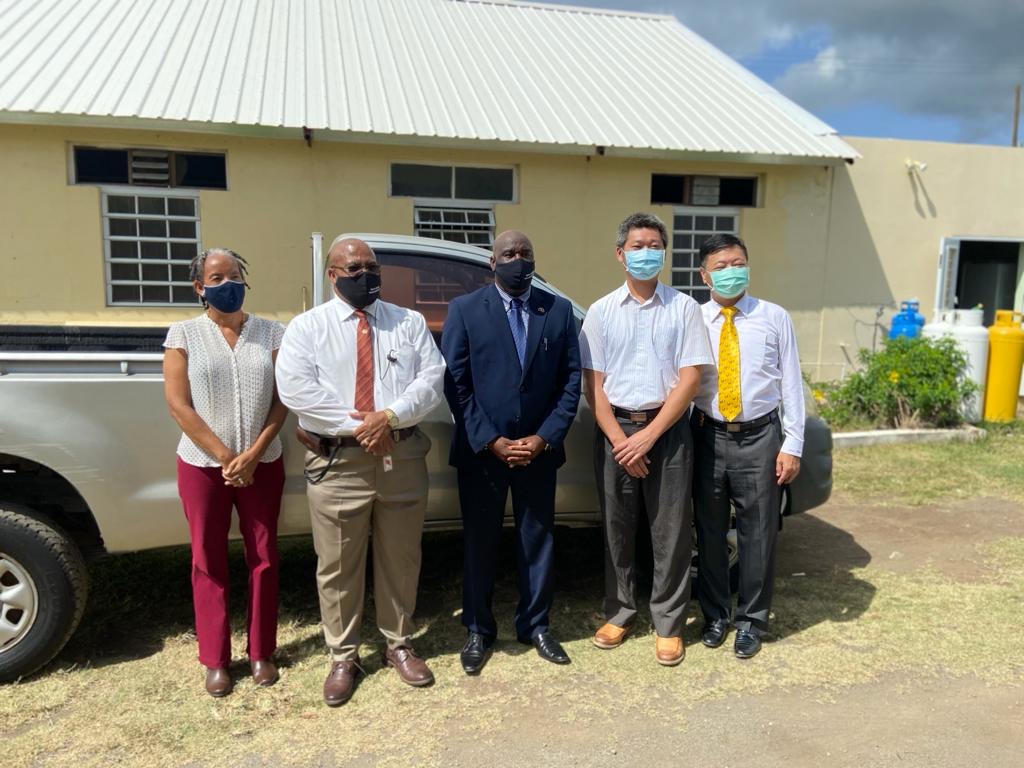 TAIWANESE DONATE PICKUP TRUCK TO DEPT OF AGRICUTURE
Basseterre, St. Kitts, September 6, 2021):
The Department of Agriculture received a Long Base pickup truck courtesy of ROC (Taiwan) Embassy in St. Kitts and Nevis through the Taiwan Technical Mission at a brief handing over ceremony on Monday.
The presentation which was held near the Taiwan Technical Mission in Needsmust was led by Chief of Operations for the Taiwan Technical Mission (TTM) in St. Kitts and Nevis, Yu'Ming Lu who presented the keys to Minister of Agriculture, Hon. Alexis Jeffers.

Mr. Lu said although the vehicle was about 10 years old, it is in great condition and can help to increase productivity at the Department of Agriculture.

"It is my pleasure on behalf of the Taiwan Technical Mission to do this vehicle handing over to the Ministry of Agriculture and we always have a very deep relationship with the Ministry of Agriculture and we try to do what support we can do. When the P.S told me that they had one program that would need one vehicle and I just searched our property and found that we had one 10-year vehicle that we can donate to the Ministry of Agriculture. [Although] this vehicle is 10 years it has good capacity, is running very well and has really low mileage use, so I see this vehicle will be useful for your Department of Agriculture and I will hope that your staff will continue to maintain this vehicle in good conditions. In the future we will continue to work with the Ministry of Agriculture and give you our support for whatever we can do", Mr. Lu explained.

Minister Jeffers accepted the keys on behalf of the Ministry and thanked the Taiwan Technical Mission for their generous donation.

He said, "I want to start by saying that we are every so grateful for the contributions that ewe have received from the Republic of China Taiwan and their technical mission here in St. Kitts and Nevis. I do not want to start to quantify all that they have done because I will be unable to do so but what I will do is qualify what they have contributed to the federation of St. Kitts and Nevis over the years. We have had this longstanding relationship ever since we've been an independent nation and even before that so it has gone just about 38 years and counting. Whether it is in the field of Technical Support in Agriculture, whether it be by way of equipment/machinery that will support the advancement of agriculture, whether it is in the medical field, whether it is training for our students by way of scholarships in Taiwan, there have been a number of areas and I can speak about climate change projects and activities that have been undertaken by the Taiwan Technical mission here on St. Kitts and Nevis.
As he spoke of the relationship between the allied nations, Minister Jeffers added, "We want to continue to foster and grow this relationship so that both countries can benefit now and in the future".
While addressing the Chief of Operations for the TTM in St. Kitts and Nevis, the Minister said, "I want to say to you Mr. Lu, this pickup you said is about 10 years old but I believe that the agent who supplied these particular vehicles would be proud to know that they have a long lasting life. Toyota pickups have been well known durable vehicles and this one I'm sure will serve us for many more years to come".
Permanent Secretary in the Ministry of Agriculture, Ron Dublin Collins, Acting Director in the Department of Agriculture, Dr. Tracy Challenger as well as representatives from the Crops and Livestock Divisions were also present at the ceremony.