Published 18 August 2022
Basseterre
Buckie Got It St. Kitts and Nevis News Source
ST. KITTS AND NEVIS ROUTED BY ARUBA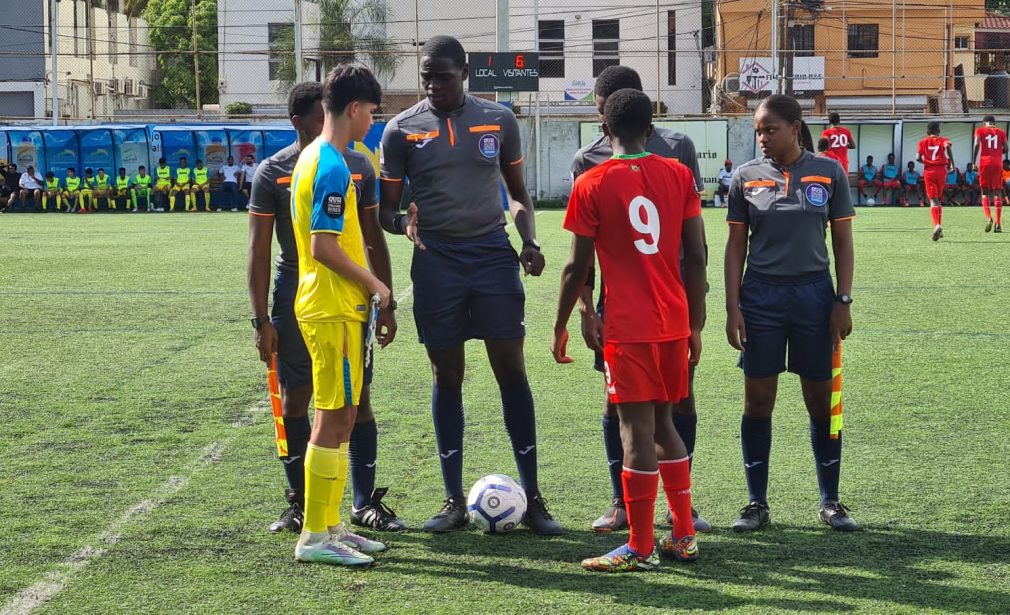 St. Kitts and Nevis went under to Aruba when they met in Tier I Group B action Wednesday
Aruba 6-10St. Kitts and Nevis
SANTO DOMINGO, Dominican Republic (August 17, 2022)—Aruba dominated their Tier I Group B CFU' Boys' Challenge Series match against St. Kitts and Nevis, prevailing 6-0. Travis Wever and Pyriq Ruiz each netted a brace in the commanding win.
Playing at Santa Fe Academy in Santo Domingo, Dominican Republic, Aruba was eager to score. The team capitalized on an unfortunate kick-off when the defender passed back to the keeper, Nathan Burroughs, who let through Wever's attempt within 10 seconds of the whistle.
Wever converted his second in the 6' and Ruiz followed sharply a minute later to make the score 3-0.
St. Kitts Nevis kept up the fight and had a few opportunities, but they could not convert those changes to goals in the first half.
The was intense and physical punctuated by fouls and a caution with quite a few fouls and a yellow card issued to Sugar Boyz's Khamarl Wattley.
St Kitts Nevis tried intently to get back into the game, but Aruba, with the size and strength advantage, made it very difficult as they dominated on and off the ball.
The water break to cool down the teams from the hot day seemed to fire Aruba up, as it was Ruiz again, off an incredible run in the 21'.
St. Kitts and Nevis managed to create some great opportunities and had some shots on goal in what may be classified as an electrical first half.
Aruba clearly understood the game plan and came back from the break to score their fifth goal, courtesy Julius Martin, in the 37'.
St Kitts and Nevis kept up the fight and Aruba kept pounding on them.
There were more fouls and as the match got increasingly physical, Wattley picked up his second yellow card and then a red.
This worsened the situation for St Kitts and Nevis already playing from behind now left a man short.
Just as the game was coming to an end, Aruba created another opportunity thanks to substitute Newton Sambo who brought the score to 6-0 in the 69', a score line that held to the final whistle.
https://www.cfufootball.org/st-kitts-and-nevis-routed-by-aruba/?fbclid=IwAR3vavwdawH2bf-_tmTVX1GH99rFIheRVALx157kT4suILAhFoh4mp7qYmY