Buckie Got It News Source
Basseterre
Published 20 May 2023
FOREIGN MINISTER DOUGLAS ENGAGES WITH BILATERAL PARTNERS IN THE MARGIN OF MEETINGS IN JAMAICA
BASSETERRE, St. Kitts, May 19, 2023 (Ministry of Foreign Affairs) –The Rt. Hon. Dr Denzil Douglas, Foreign Minister of Saint Kitts and Nevis while attending the two-day 26th Meeting of the Council for Foreign and Community Relations (COFCOR).
In a series of bilateral engagements in the margins of the COFCOR meeting, Foreign Minister Rt Hon. Dr. Denzil Douglas met with His Excellency Juan Fernandez-Trigo, Secretary of State for Latin America, the Caribbean, and the Spanish world, in his capacity as Special Envoy of the Minister of Foreign Affairs, the European Union and Cooperation of the Kingdom of Spain. During this bilateral meeting, the two officials discussed Spain's candidate city of Malaga for Expo2027 and its upcoming presidency of the European Union for the next six months, starting June 1st. Spain pledged its continued commitment to work with the Caribbean on issues such as climate change, food security, health, and disaster prevention.
Minister Douglas thanked Spain for its continued support for the Caribbean and the need for Spain to pay specific attention to Saint Kitts and Nevis in the context of their shared history and in the interest of shared global commons. FM Douglas also urged Spain to advocate for OECS Countries' CBI programs given their fundamental value and impact on these islands' social and economic development agenda.
The Rt. Hon Dr Douglas also met with His Excellency Takei Shunsuke, State Minister for Foreign Affairs of Japan.  In this meeting, the Japanese official reiterated his country's commitment and support for Small Island Developing States (SIDS), which include assistance to remove sargassum seaweed, and programs of continued support to strengthen the management of coastal fisheries and initiatives for fighting climate change.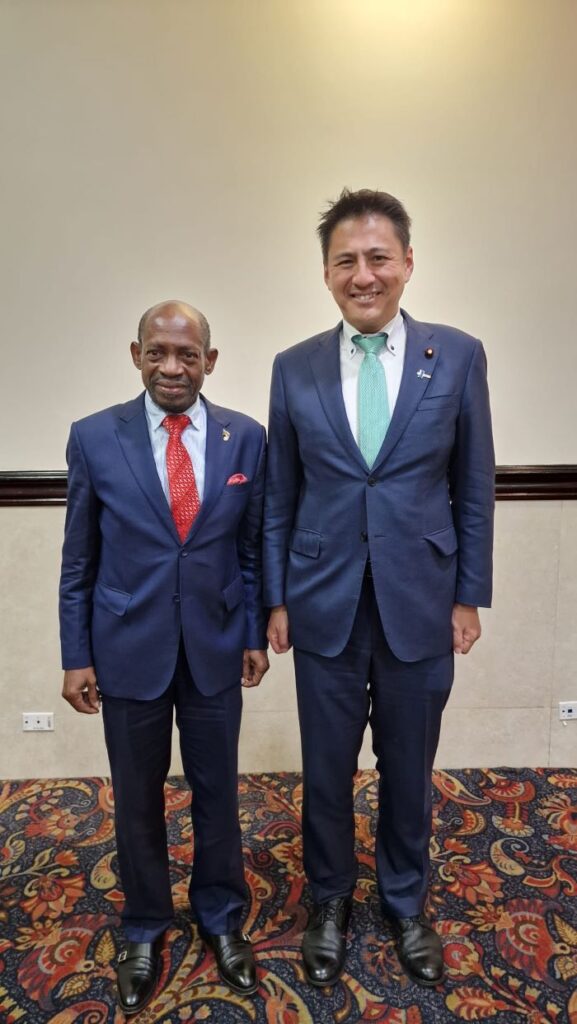 small Caribbean states. He also complimented Japan for its continued progress and socioeconomic transformation. He called on Japan to support St. Kitts-Nevis in its efforts to transform the Federation into a sustainable small island state and to advocate, among larger OECD countries to use a multidimensional vulnerability index in assessing SIDS ability to access concessionary loans and development financing instead of the current flawed GDP per capita criterion.
Minister Douglas will continue to seize opportunities to engage with international partners of Saint Kitts and Nevis.