Published 20 June 2023
Basseterre
Buckie Got It Media Source
NINETEEN FORMALLY CONFERRED WITH 2022 NATIONAL HONOURS AWARDS FOR CONTRIBUTION TO NATION-BUILDING
Basseterre, St. Kitts, June 20, 2023 (SKNIS): Nineteen exemplary nationals of St. Kitts and Nevis were invested with the 2022 National Honours Awards for their exceptional contribution to the development of the Federation at an investiture ceremony held by Her Excellency the Governor-General, Dame Marcella Liburd GCMG, JP, on Tuesday, June 20, 2023, at Government House.
The recipients of the Companion of the Star of Merit, who were first honoured on National Heroes Day on September 16, 2022, include Eileen Grey for her contribution to Education, Culture and Sports; Dennis Leroy Delaney for Education, Arts and Culture; Lorraine Agatha Browne, Wayland Vaughan, Violet Jones-Mawnlawde and Dr. Lincoln Leroy Carty for their contribution to Education; Captain Sylvester Granville Charles for Education, Music, Sports and Volunteerism; Maxwell Bass Senior for Music and Security Services, while Nathan Esdaille and Elsie 'Teacher Elsie' Mills were recognized for their contribution to Education and Religion.
Shirley Kelly was awarded for her contribution to Nursing; Lorna Ava Henry for Culture and the Arts; Pastor Lincoln Connor for Nation-Building and Youth Development, and Clement 'Juni' Liburd for Broadcasting. The late Lloyd Lazar and Kenrick Georges were awarded posthumously for their contributions to Education and Sports and Music respectively.
The Companion of the Star of Merit is awarded for long and meritorious service, or for loyal and devoted service to the nation.
The Medal of Honour was awarded to Mable Morton for Community Service and Entrepreneurship; Clyde Richardson for Music and the Arts, and James 'Mickey' Frederick for Performing Arts and Culture. This award is given to nationals for their outstanding and meritorious service to the nation.
Prime Minister the Honourable Dr. Terrance Drew congratulated the recipients, noting that their contribution would leave a lasting positive impression on the lives of many.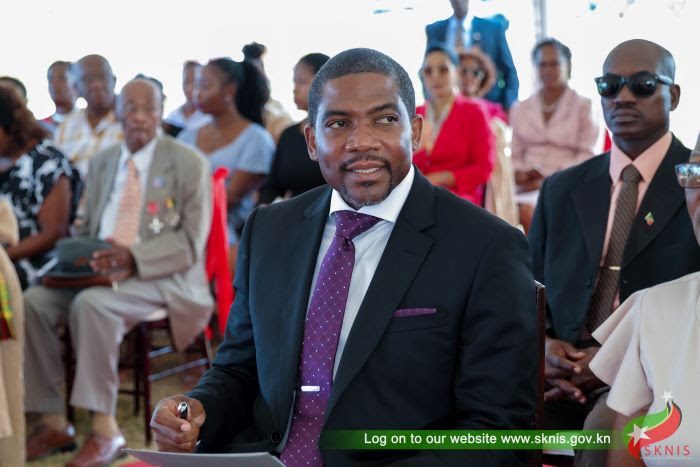 "As I look across at all of the awardees and honourees today, I can clearly say that each of you would have had an impact on my life and I can only imagine the lives that you would have touched in St. Kitts and Nevis," said Prime Minister Dr. Drew. "I can almost give a story about each of you and that says a lot – it means that you have contributed significantly."
Prime Minister Dr. Drew said that the diversity among the group is quite notable.
"Gender, age, area of specialization, are of origin in St. Kitts and Nevis and varying physical abilities [are all notable]. I am sure there are more differences – maybe religion, politics – but the common themes that run through all of you are the themes of selflessness, service to others and country and the willingness to sacrifice for the greater good," said the honourable prime minister. "This tells us a story that it doesn't matter any difference that you may have, that your contribution is needed for nation-building."
Prime Minister Dr. Drew thanked the awardees for their meritorious contributions to nation-building.
The honourees were awarded in keeping with the National Honours Act No.19 of 96. The National Honours Act provides for the Star of Merit, the Medal of Honour and the Order of National Hero to be awarded to any citizen of St. Christopher and Nevis, who renders distinguished and outstanding service to the nation.
Present at the ceremony were members of the Cabinet, as well as other senior government officials, family members of the honourees, and other specially invited guests.