Published 2 October 2023
Basseterre
Buckie Got It, St Kitts Nevis News Source
Teejay, Byron Messia Beef Yields Diss Tracks And Instagram Shots

OCTOBER 2, 2023 10:32 PM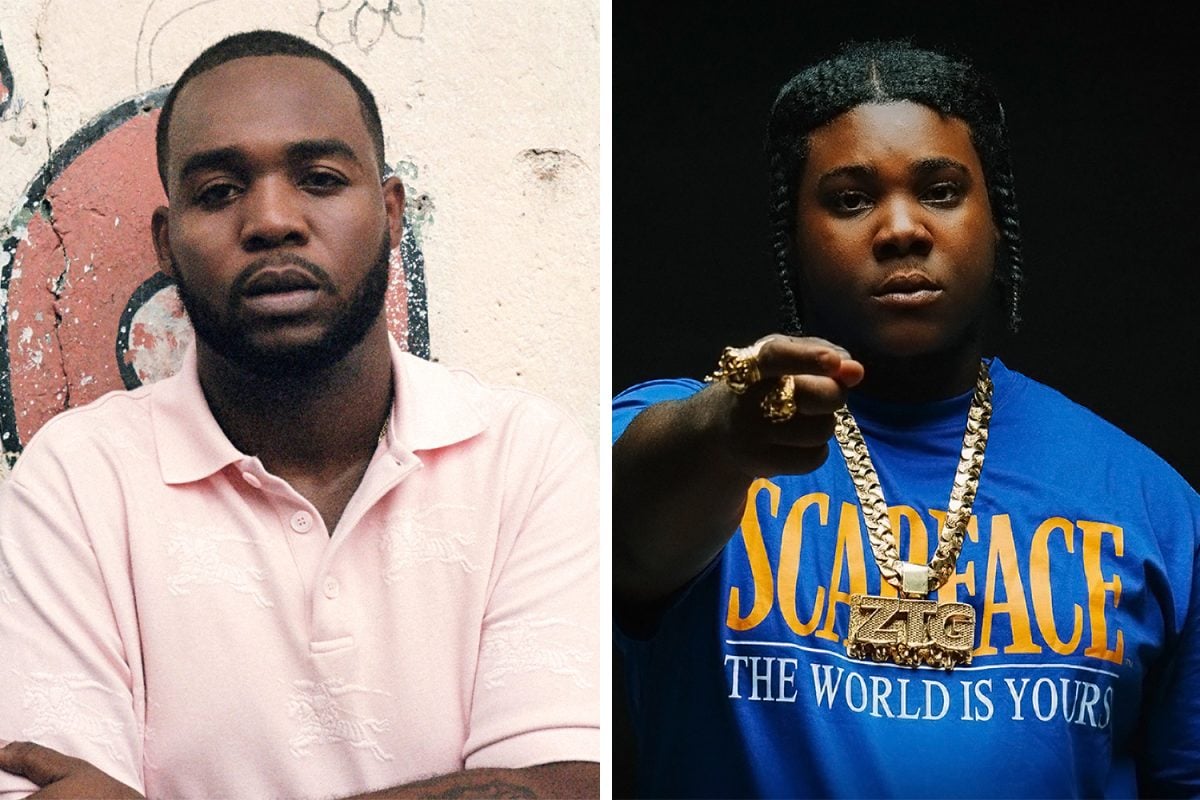 Two newly released diss tracks mark an ongoing feud between major label artists Teejay and Byron Messia, both of whom have ignited their fan bases following a series of cryptic and stinging Instagram posts aimed at each other.
Though the cause of the feud is yet to be officially confirmed, its earliest seeds can be traced back to a message posted by Messia to his 'Close Friends' group on Instagram, which directly called out Teejay and Reggae Sumfest.
The post, which made the rounds over the weekend, read: "2 ppl me want fe go s#uck dem mada this weekend – Sum Fest & Teejay… Hatin' ass bitches."
Speculations are rife that Messia – who's contended that his hit song, Talibans, is "the biggest Dancehall song since 2005" – believes that he was snubbed from Sumfest's lineup this year, and that somehow, Teejay had a part to play in it.
That post, which those in Messia's circle made sure Teejay got wind of, snowballed into the running feud, which has been as entertaining as it has been puzzling. Teejay took to social media to directly address Messia's comments, giving rise to references to the Kittitian Dancehall artist as a "pig."
Conversely, and without much context, Messia has labeled Teejay a penguin.
Revealing screenshots of direct messages sent to him on Instagram from Messia, dated as far back as 2018, Teejay told his followers, in an extended caption, that Messia is just a bitter fan of his.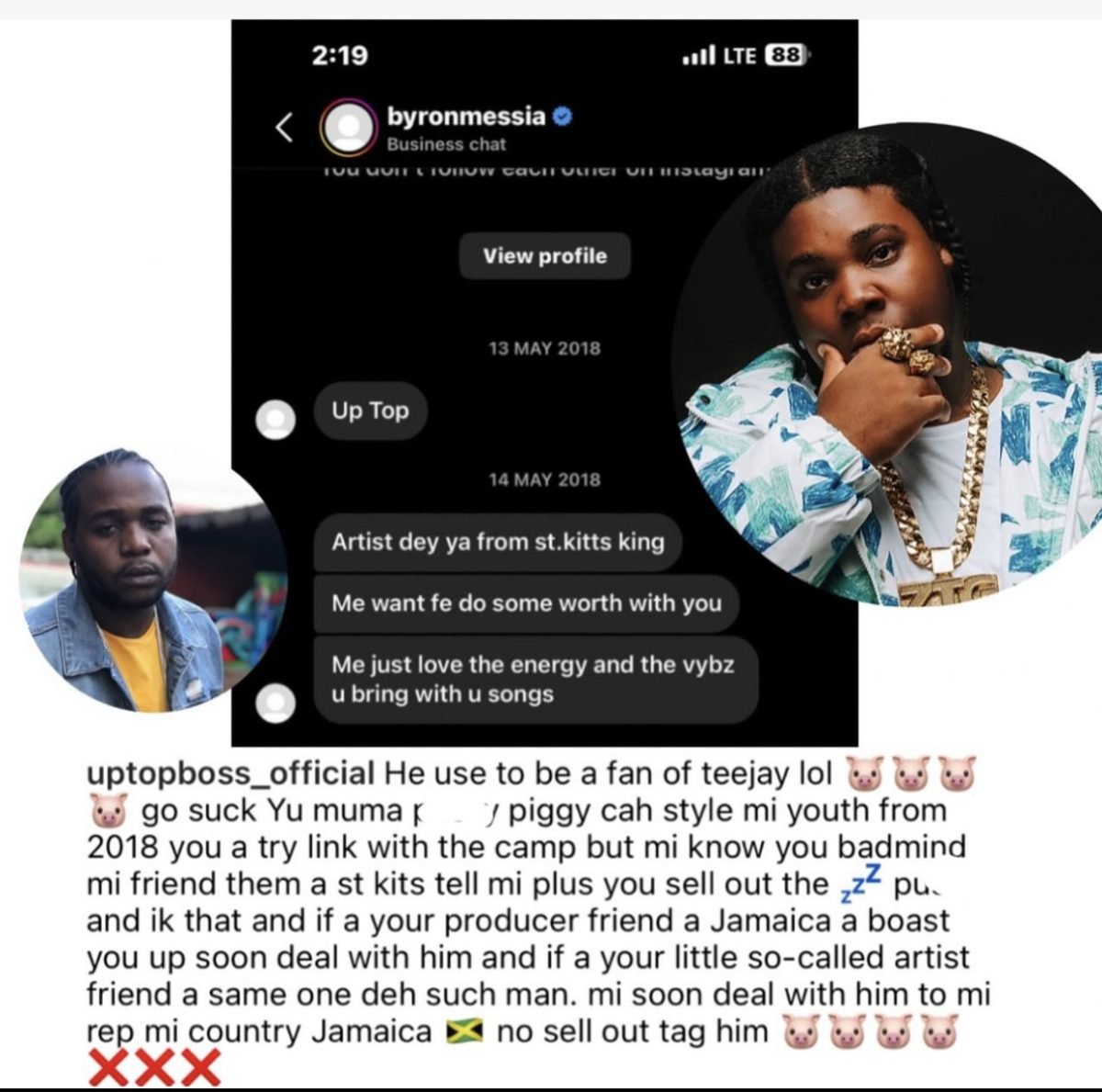 The St. James-based deejay wrote: "He used to be a fan of Teejay lol… go s#ck yuh muma p#&sy. Piggy cah style mi. Youth, from 2018 you a try link with the camp but mi know you badmind. Mi friend them a St. Kitts tell mi. Plus, you sell out the [sleeping emoji] p#&sy and I know that. If a your producer friend a Jamaica a boost yuh up, soon deal with him and if a your little so-called artist friend – da same one deh, such man – mi soon deal with him to. Mi rep mi country Jamaica. No sell out. Tag him [pig emojis]."
The screenshots accompanying the post featuring unanswered messages sent to Teejay from Messia – the first of which simply read "Up Top", dated May 13, 2018.
The following day, Messia opted for a more detailed attention-grabber, writing: "Artist dey ya from St. Kitts king. Me want fe do some worth [work] with you. Me jus love the energy and the vybz u bring with u songs."
Messia, who was alerted to Teejay's post, made a similar post of his own. Clapping back at Teejay's 'fan' comments, the Kittitian Dancehall star shared a video of Teejay listening to and celebrating Talibans. He captioned it: "2 A WE A FANS", followed by laughing emojis, along with a penguin emoji.
https://www.instagram.com/reel/Cx6LTP2RXh2/embed/captioned/?cr=1&v=14&wp=622&rd=https%3A%2F%2Fwww.dancehallmag.com&rp=%2F2023%2F10%2F02%2Fnews%2Fteejay-byron-messia-beef-yields-diss-tracks-and-instagram-shots.html#%7B%22ci%22%3A0%2C%22os%22%3A1427.300000011921%7D
The video features an animated Teejay calling out Messia by name as Talibans plays in the background. He opens by saying: "Byron Messia… p#$$yclaat, yuh find it, yuh find it!… Dat is it, man, yuh hear? Bad artist!"
Messia is joined in the video by longtime producer and friend, Extol Music, who was also visibly enjoying Talibans as both he and Teejay took turns singing and, at points, mouthing the lyrics.
The feverish back-and-forth between both men culminated in Teejay drawing first blood in the studio with Warning – a lyrically potent diss track making certain references to Messia's lyrical Talibans association.
Messia initially responded: "Me no war with kids. A child abuse dat. Sell some records son. A better me send fe me belt."
Today, however, Messia served up his own diss track, Collision, in which he offered to "shoot up di car weh di py&$sy dem a drift… 'bout f#&k up in ya."
Since the release of both diss tracks, Teejay and Messia seem to have reignited their war of words on Instagram, with Teejay targeting Messia's attempt to 'son' him.
Teejay, who is at least 5 years older than Messia, wrote: "You a my son bro. Mi you look up to. Live inna my style. P#$$y, only a matter of time before the world know who really bad."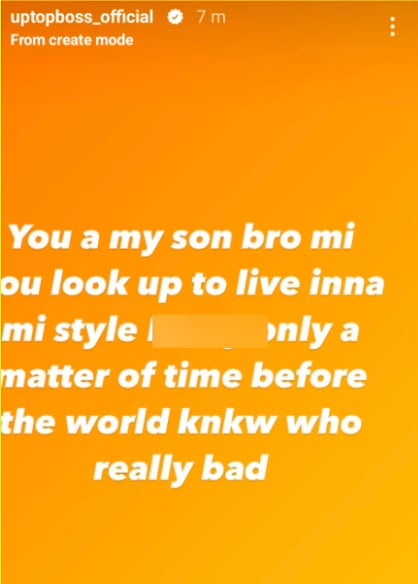 For his part, Messia appeared to imply that Teejay had been secretly waving the white flag, making several attempts for a peace offering.
Messia shared: "Nar argue with no guy way call down me phone ina Saint Maarten fe look peace with me… Matter a fact, f#ccc dat… and me done chat."
In the meantime, fans were quick to chime in on each diss track, with the consensus appearing to give Teejay the slight edge in what many are hoping is just round one in an already exhilarating clash.
According to one fan, who responded to Messia's Collision: "Sorry but me nah feel this!!!"
Another fan, who appeared to give the track his blessings, but with some reservations, wrote: "Nah lie mi a yard man and the track hard and it woulda win if u did drop it earlier but u tek 14 days and the song short yf. A run him run outa lyrics or summ? Swear if it did longer u win 🏆."
There were others who praised the track, touting it as "Bare fire!!"
Meanwhile, over on Teejay's Warning, fans came out in droves, hailing it as the clear-cut better of the two.
One fan chimed in, quoting a line from the song: "Put eh matick a yuh head mek summn go radamm!🔥🔥🔥."
Another wrote simply: "No competition 🔥🔥."
Messia is reportedly signed to Interscope Records, under Simple Stupid Records/Geffen, while Teejay is signed to Warner Records.