Published 30 October 2023
Basseterre
Buckie Got It, St Kitts Nevis News Source
CANADIAN MARKET SHOWS GROWING PROMISE IN TOURISM FOR ST KITTS
Basseterre, St. Kitts, October 30, 2023 (SKNIS): A growing number of individuals from Canada are coming to St. Kitts as the strategy by tourism officials to offer authentic Kittitian experiences as part of the Venture Deeper campaign is bearing fruit.
At a press conference on October 26, 2023, Minister of Tourism, Honourable Marsha Henderson, said that the growing demand for travel to St. Kitts prompted officials from Air Canada to respond by increasing travel options.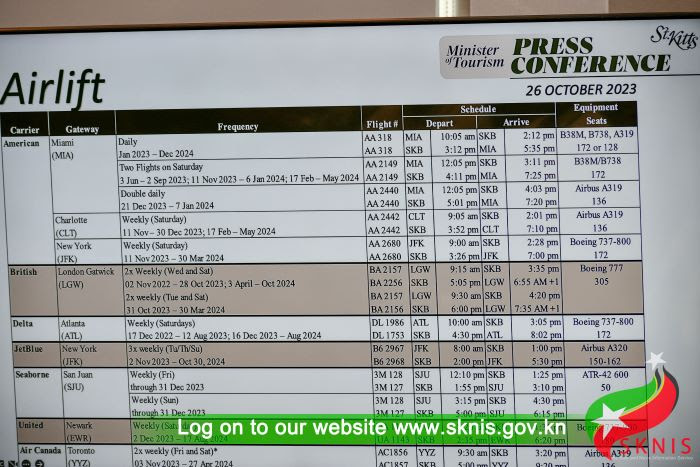 "We are immensely proud to report that Air Canada has increased capacity to the destination by 66 percent," she stated.
The increase in service follows a meeting between airline executives and ministry officials in May 2023, explained Minister Henderson. At that time, it was suggested that a larger capacity aircraft also be used for the route.
"Since then, we have negotiated with them non-stop flights from Toronto on Fridays and on Saturdays commencing on Friday 3rd November, 2023," the tourism minister indicated.
The minister recently participated in several media and trade engagements in Canada. Meetings with Air Canada Vacations officials also took place during the trip.
According to its website, Air Canada Vacations offers travel packages to persons seeking dream vacations.