Published 21 September 2023
Basseterre
Buckie Got It Media Source
DEPUTY PRIME MINISTER DR. HANLEY COMMENDS SOCIAL SECURITY, AS EIGHT STUDENTS WERE INDUCTED INTO THE SUSANNA LEE HIGH SCHOOL SCHOLARSHIP PROGRAMME
BASSETERRE, St. Kitts, September 21, 2023 (SKNIS) – The St. Christopher and Nevis Social Security Board Susanna Lee Scholarship Programme continues to support the academic advancement of students across St. Kitts and Nevis, as another eight (8) secondary school students were inducted into the programme on Wednesday, September 21, 2023.
The 2023/2024 full-time scholarship recipients are Sapphire Durand of the Gingerland Secondary School; Mahira Hanley of the Charlestown Secondary School; Javier Ponteen of the Washington Archibald High School; Treviah James of the Verchilds High School; Zemiyah Johnson of the Basseterre High School; Teshaun Rawlins of the Charles E. Mills Secondary School; Jamari Liburd of the Saddlers Secondary School and Glenva Harrigan of the Cayon High School.
In addition to the eight full-time awardees, eighteen (18) students were presented with one-time assistance as part of this year's 40th scholarship ceremony.
Eight fifth-form graduates of the programme were also recognized for their academic achievements in the recent CSEC Examinations.
Wednesday's induction ceremony was particularly special as it marked 40 years since the Susanna Lee Scholarship Programme has been in existence. The ceremony was also held one day after the Federation of St. Kitts and Nevis observed its 40th Anniversary of Independence.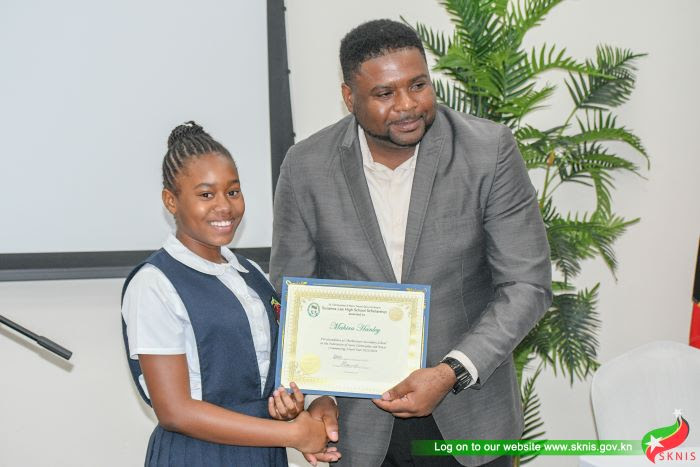 Hon. Troy Liburd, Junior Minister of Education in the Nevis Island Administration presents certificate to an awardee

The programme provides financial assistance and a strong mentorship component to support the holistic development of each student.
 
Deputy Prime Minister and Minister of Education and Youth Empowerment et al., the Honourable Dr. Geoffrey Hanley commended the Social Security Board for recognizing very early on the benefits of investing in the development of the nation's youth through education.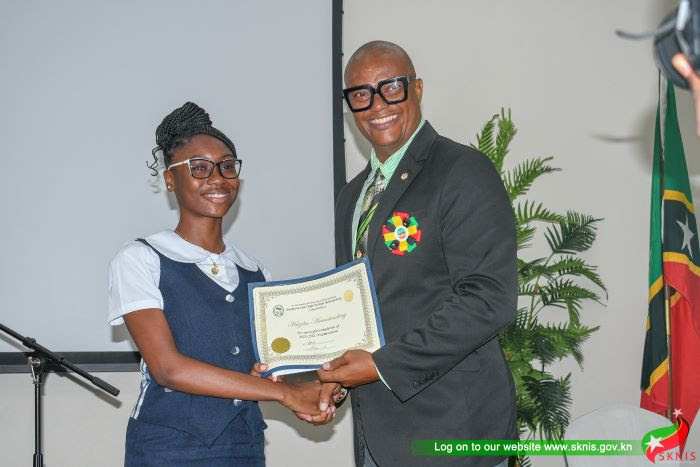 Hon. Dr. Geoffrey Hanley presents certificate to an awardee 

"I believe that the Susanna Lee High Schools Scholarship is an integral part of ensuring that our Federation's goal of growing sustainably, developing maturing and building resiliency is realized. I commend Social Security for their foresight for taking the initiative 40 years ago to ensure that our youth have a clear path to success. This initiative will inevitably lead our recipients to becoming contributing members to our society," Deputy Prime Minister Dr. Hanley said.
 
"As Deputy Prime Minister, and more fitting as Minister of Education, I cannot underscore the value of education and how much more this value is increased when corporate citizens partner with the Ministry of Education to increase our youth's access to quality education," Dr. Hanley continued.
 
The deputy prime minister also congratulated the recipients for their efforts along their educational journey to date and implored them to work even harder going forward.
 
"The theme for the induction ceremony, Climbing to 40 and Beyond, is fitting as it provides a stark reminder that the climb to success begins with one step at a time, and just like climbing, you must be self-motivated, have the discipline to keep going and the perseverance to put one foot in front of the other until your goals come to fruition. Remember recipients, the climb is not meant to be easy but to test your abilities to push ahead despite the challenges, thereby ensuring that you are better than the day before," Deputy Prime Minister Dr. Hanley added.
 
Since its establishment in 1983, the St. Christopher and Nevis Social Security Board Programme has directly benefited more than two hundred (200) students in St. Kitts and Nevis.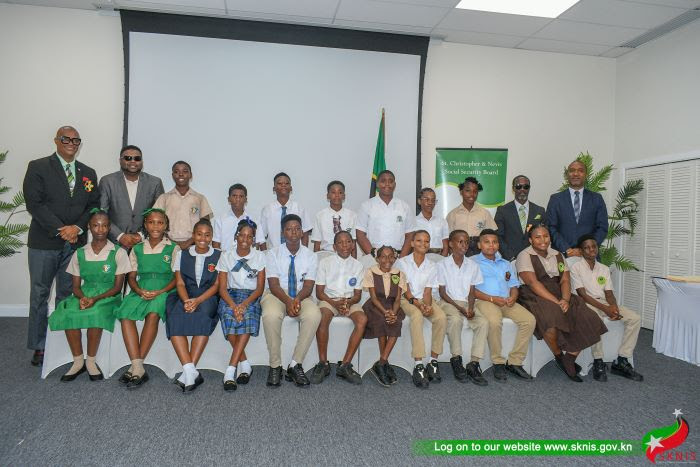 AWARDEES OF THE SUSANNA LEE HIGH SCHOOL SCHOLARSHIP WITH OFFICIALS