Published 24 May 2023
Basseterre
Buckie Got It, St Kitts Nevis News Source
TRANSFORMATION OF THE HEALTH SECTOR CONTINUES AS CATARACT SURGERIES RESUME AFTER NEARLY A YEAR
BASSETERRE, St. Kitts, May 24, 2023 (SKNIS) – Prime Minister and Minister of Health, the Honourable Dr. Terrance Drew has expressed his satisfaction in the recent transformation that has been taking place across the health sector and highlighted the recent resumption of cataract surgeries at the Joseph N. France General Hospital. This service was suspended at the hospital for almost a year because of poorly maintained medical equipment.  
"We have resumed eye surgery at the JNF, meaning cataract surgery and persons with diabetic retinopathy and so forth, that's where the diabetes affects the eyes," Prime Minister Dr. Drew said during an appearance on Freedom FM's Issues programme on Wednesday, May 24, 2023.

To facilitate the resumption of this critical service for the people, the Government procured state-of-the-art equipment, including a cutting-edge Ophthalmic Microscope, Ultrasounds, and Cautery.

"There are people who were blinded because they could not get eye surgery. When we got into office the microscope which is used to do these types of surgeries was nonfunctional. There was no effort to buy the new equipment. So, we bought the new equipment and I think it cost us a significant amount of money, but it is a good investment and we bought a good machine.  I want to thank Dr. Crespo and her team as well as sister Lewis and the team at the eye clinic who have resumed eye surgeries," Dr. Drew added.

The health minister also reported that the hospital is now also equipped with a new anesthesiology machine which is used to deliver general anesthesia to patients as they undergo a medical procedure.

Prime Minister Dr. Drew said, "We have brought in new machines to make sure that we are on the path of accreditation. Accreditation speaks to a hospital of good standards and so we have done that. We have also brought in dialysis machines which will be set up and we want to thank Mr. Payne and Leo Estridge and Austin Edinborough, the PS [Permanent Secretary] and CMO [Chief Medical Officer] for making sure that those dialysis machines came into St. Kitts and Nevis, and so we are putting those into action very soon as well."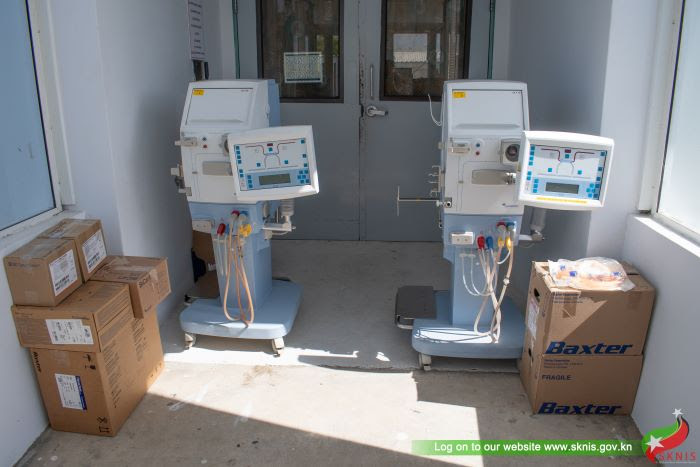 Dialysis machines received by the Government
The honourable prime minister said this is all part of his Government's mandate to significantly advance the delivery of healthcare services across St. Kitts and Nevis.

He added, "I know you were hearing about the blood bank, you hardly hear anything about the blood bank now. You were hearing about the emergency room, we have stocked the emergency room with more experienced doctors.  We also looked at internal medicine where we brought in a neurologist for the first time…and we also brought in on top of that two other internal doctors—one with a focus on intensive care and the other with a focus on the emergency room. We brought in a biotechnician to look at our machines and our lab tests and so forth to make sure that they are functioning well."

Prime Minister Dr. Drew, an internal medical doctor by profession, said the focus will now shift to the recruitment of a cardiologist; which is a medical practitioner who specializes in the care of the heart and blood vessels.