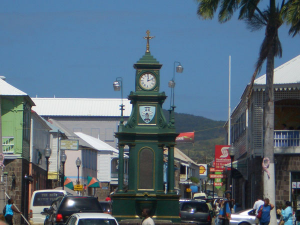 Your tour leaves Port Zante,the St. Kitts Marriott or any other place agreed upon. It takes you through the very historic town of Basseterre. During this part of the excursion, you will see our old churches, the Berkley Memorial (The Circus), The Independence Square and The War Memorial. Such elements help to paint a picture of the daily lives of Kittitians. While traveling in a westward direction, the tour will make three stops. Firstly, we will stop at the Romney Manor Sugar Plantation. It was owned by the great, great, grandfather of Thomas Jerferson – the third president of the United States. Our second stop is at the Brimstone Hill Fortress which is a UNESCO world heritage site and is also the British Military Head Quarters of the 17th and 18th century. The Fortress took one hundred and four years to build. Moving in to the North of the island, we will stop at the Black Rocks area where volcanic rocks can be seen on the coast. These rocks are remnants of a volcanic eruption on the island approximately four hundred years ago. After this stop, the tour will make its way back to the starting point. The information gained in this tour covers our history, the political system, our economy and social ways of life.
University of Medicine & Health Sciences
Historic Basseterre (Port Zante, The Circus, Independence Square, Treasury Building, War Memorial, St. George's Anglican Church, Co-Cathedral of the Immaculate Conception)
University of Medicine & Health Sciences
Bloody Point
Carib PetroglyphsRomney Manor – Home of Caribelle Batik
Brimstone Hill – A World UNESCO Heritage Site
Black Rocks
Timothy Hill Overlook
Start Time: 9:00 am
Duration: 4 hours
Cost: US $160.00 (1-4 persons. $40 each additional person).